Abortion reform is up against Buddhism in Thailand
by Andrew Chambers, The Guardian, 25 November 2010
The discovery of 2,000 foetuses has fuelled calls for a change in the law, but Buddhism plays a big role in the abortion debate
Bangkok, Thailand -- The discovery of more than 2,000 foetuses stored at a Bangkok temple has made front-page news across Thailand. As most abortion is illegal in Thailand, the case has shone a spotlight on a massive backstreet industry and sparked national debate about the country's current abortion laws, which date from the 1950s. With abortion routinely recognised as a "sin" in Theravada Buddhism, religion has played a significant social and political role in this debate.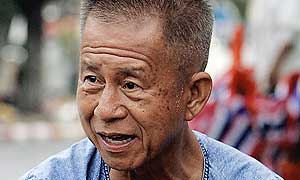 << Chamlong Srimuang's intervention against the amendment to the abortion law marked a more overt role for Buddhism in politics. Photograph: Apichart Weerawong/AP
The undertaker at Wat Phai Ngern is accused of accepting regular deliveries of foetuses in plastic bags from an intermediary, who was paid by clinics to dispose of them discreetly. Buddhist temples are often used to store bodies prior to cremation but, with the local crematorium out of order, complaints about the smell led to the discovery of the operation. The bags are thought to have come from up to 20 different locations, sparking a crackdown on 3,900 suspected illegal clinics nationwide.
In 1993 the Thai health ministry estimated there were 80,000 illegal abortions a year. An earlier study suggested the total was closer to 300,000. In urban areas doctors are responsible for many of the illegal abortions by providing them for congenital disorders and HIV infections.
This is despite the fact the law only permits abortions in cases of rape or physical risk to the woman's health. Illegality means that medical standards remain low – a study in 1993 found that over 1% of women attending regional hospital for illegal abortions subsequently died due to complications.
Theravada Buddhism in Thailand is a socially conservative force. About 95% of the population are Buddhist and Buddhism remains closely tied to the state.
Sociologist James Hughes explains that most eastern Buddhist commentators, through an acceptance of karmic rebirth, believe consciousness begins at conception. Therefore, "all abortion incurs the karmic burden of killing". While some monks such as Phra Thepwethi believe in a "middle way" (which regards abortion as a sin, but sometimes as the best option) the framing of abortion in terms of sin still has a significant cultural influence.
A survey of women who had had abortions found that more than half were fearful of community exposure and a third worried that they would suffer bad karma. Andrea Whittaker, in her book, Abortion, Sin and the State in Thailand also explains that "fear of bap (sin) is the most common reason given by women with unplanned pregnancies for why they didn't abort".
Thai Buddhism has also had a key political role in maintaining current abortion laws, which have remained unchanged since 1956. Public discussions on reform began in the 1970s and culminated in 1981 by passing of amendment in the House of Representatives. This proposed widening the legality of abortion to include considerations of mental wellbeing, congenital abnormalities and some cases of contraceptive failure. However, Major General Chamlong Srimuang mobilised a powerful religious coalition to successfully lobby against the amendment.
Chamlong's intervention marked a more overt role for Buddhism in politics. He is a member of the Buddhist movement Santi Asoke, whose founder, Phra Phothirak, challenged the idea that Thai monks should not comment on contemporary social issues. Phothirak believed that monks had a duty to speak out to oppose abortion as the killing of human life, arguing that "those who say they are religious but who don't say anything don't know about religion or morality".
The Santi Asoke sect, which broke away from the Buddhist sangha in 1989, has been described as "radical Buddhism" for its anti-modernist conservatism and strict monastic codes. Chamlong, now a leading political figure, is responsible for the political wing of the Santi Asoke movement. For these followers, abortion is linked to the influence of western promiscuity and is "un-Buddhist, anti-religious and therefore un-Thai".
Members from the mainstream Buddhist sanga also continue to oppose the liberalisation of abortion laws. After a conference in 2006 where NGOs called for the wider legalisation of abortion, a monk named Phra Mahamanoj responded: "We Buddhists … firmly disagree with legal abortion and the destruction of life. If you don't want something to happen, don't do it."
Following the recent temple discovery, leading monks have again been speaking out. Phramaha Vudhijaya Vajiramedhi was unequivocal: "In [the] Buddhist view, both having an abortion and performing an abortion amount to murder. Those involved in abortions will face distress in both this life and the next because their sins will follow them."
The scandal has given momentum to calls for political reform. A Democrat MP has proposed a bill on "consensual and necessary abortions", which would liberalise current laws. This has been supported by Maytinee Bhongsvej, of the Association for the Promotion of the Status of Women (APSW), but she believes that change will be difficult to implement. "People's attitudes are the major obstacle. For Thai society, abortion is a sin," she says.
The prime minister, Abhisit Vejjajiva, has ruled out any legal changes, saying that the current laws are "good enough". Thai advocacy groups like Women's Health Advocacy Foundation point out that liberalising abortion laws would be in line with public opinion, would align the law more closely with the realities of current abortion provision and would also significantly reduce preventable medical complications. However, any reform must contend with Theravada Buddhism – which, with its integral part in political and social structures, retains a significant influence over the debate on abortion in Thailand.