Ajahn Maha Boowa's funeral to 'draw thousands'
The Bangkok Post, March 3, 2011
The cremation of Luangta Maha Bua Yannasampanno is a logistical challenge
Udon Thani, Thailand -- Wat Pa Ban Tad forest temple in Udon Thani is abuzz with activity. More than 1,500 kitchens are being set up to cater to more than 2,500 monks residing at the temple and thousands of visitors streaming in every day.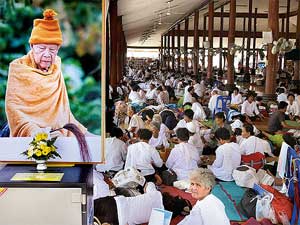 << Wat Pa Ban Tad forest temple in Udon Thani is packed with Buddhists paying homage to the body of Luangta Maha Bua Yannasampanno yesterday. TAWATCHAI KEMGUMNERD
Space must be made to accommodate thousands of cars heading to the temple. Sacks of rice and heaps of vegetables have to be brought in and properly stored. This is all in preparation for the big event on Saturday - the cremation of highly revered monk Luangta Maha Bua Yannasampanno, who passed away on Jan 30 at the age of 98.
The ceremony will be presided over by Her Majesty the Queen. The temple is hectic with everything that needs to be done to accommodate the large number of visitors for the famous monk's last rites, which will officially start tomorrow.
Logistics is a challenge. Even though the temple has expanded its parking lots from five to 19, covering an area of 1,095 rai or more than 2 million square metres, it is still concerned that traffic will be a problem.
Temple authorities yesterday told cooks and volunteers who man the large and small kitchens scattered around the temple that they would have to stock all the food, water and ice - everything they will need for their cooking - now because tomorrow and Saturday they won't be able to move vehicles out of and around the temple.
Yaowaluck Padungkitniran, a cook at the Sri Thai Mai soup kitchen, said she would be able to stock fresh ingredients to last two days but would have trouble if she was not able to go out to get ice.
Another female cook, who has been cooking about 200 kilogrammes of rice per day, plans to double the amount tomorrow and Saturday. As her kitchen is located close to a parking lot entrance, she said she should not have too much trouble shuttling around.
In the temple, about 50 police officers from Senee Ronayut Camp have been rehearsing the funeral procession. For the ceremony, 12 pall bearers will carry the coffin from the temple to the outdoor crematorium, over which a large umbrella is being installed as a finishing touch. White flowers will decorate the raised pattern for the funeral.
Media organisations in Udon Thani have joined forces in setting up a temporary news centre specifically for the event. Radio stations 99.0, 88.0 and 92.75 will start broadcasting tomorrow and continue until Sunday. Broadcasts will run from 5am to midnight and will give out information about the ceremony, traffic and the general atmosphere.
Phra Khru Athakitnanthakhun, abbot of Wat Pa Doi Lap Nga, said the monks' gathering at Wat Pa Ban Tad will hold a pha paceremony for the late abbot today. Tomorrow Her Royal Highness Princess Chulabhorn will take part in a morning alms-giving ceremony and evening prayers at the temple. The cremation is scheduled for 1pm on Saturday. The temple has received 267 million baht in donations and 45kg of gold to benefit Luangta Maha Bua's causes.