Cambodia observes Buddha's Day
Xinhua, May 24, 2013
KANDAL, Cambodia -- Thousands of Buddhist monks and Buddhists marched on Friday morning around Preah Reach Trap Mountain, where the relics of Buddha are housed, to celebrate the Visak Bochea's Day, or Buddha's Day.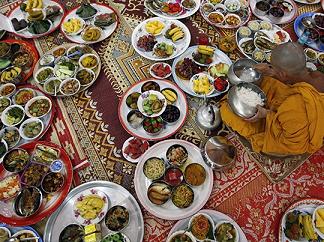 The annually religious ceremony was attended by Great Supreme Patriarch Tep Vong, leader of the Mohanikaya Buddhist sect, and Supreme Patriarch Bou Kry, head of the Thammayut Buddhist sect, as well as Deputy Prime Minister and Defense Minister Gen. Tea Banh.
Visak Bochea's Day marked the anniversary of the Buddha's birth, enlightenment and death, said a media statement from the National Committee for Organizing National and International Festivals.
It is a public holiday in this Buddhist-dominant country, where about 90 percent of the 14.5 million populations are Buddhists.
At the event, lay people prayed to the Lord Buddha by lighting candles, incense sticks and laying flowers before the Lord Buddha' s statues and relics. In addition, they donated foods and money to participating Buddhist monks with the dedication to their deceased relatives.
"The celebration is to maintain national identification and tradition and to enhance the key role of Buddhism in Cambodia," the statement said.
One of the participants Top Pich, 72, said that she has come to attend this important ritual every year.
"As a Buddhist, today is a very important day for me to commemorate my Lord Buddha," she said. "All of my family members are Buddhists and we have followed this practice from generation to generation."
Buddhism is the state religion in this Southeast Asia nation. According to the figures of Ministry of Cults and Religion, the country has about 4,400 Buddhist pagodas with more than 50,000 monks.