Mourners honor `Butcher' with Buddhist ceremony
AP, July 23, 2006
Anlong Veng, Cambodia -- Hundreds of mourners yesterday lit incense and monks chanted prayers as Ta Mok, one of the chief architects of the Khmer Rouge's brutal rule of Cambodia during the late 1970s, was given a traditional Buddhist funeral.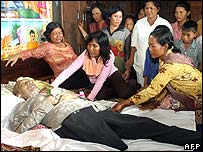 << Relatives and mourners gather around the dead body of former Khmer Rouge leader Ta Mok at Anlong Veng, a former Khmer Rouge stronghold, yesterday.
PHOTO: AFP
They gathered at the house of one of Ta Mok's daughters in Anlong Veng, a former Khmer Rouge stronghold in northern Cambodia, where his body had been taken from the capital, Phnom Penh. He died on Friday in the Cambodian capital at the age of 80, after being in government custody since 1999.
For most of his lifetime, Ta Mok had been a feared guerrilla leader whose ruthlessness earned him the nickname "The Butcher" in the Western press.
"His name struck terror in the hearts of people, and his troops were the cruelest of all," wrote journalist Nayan Chanda. He was the group's paramount leader in its dying days in the late 1990s after ousting and arresting the notorious Pol Pot.
In death, his body -- dressed in a simple light gray tunic and dark gray pants -- lay on an open bed, next to a wreath and a large photograph of himself. The right leg of his pants was folded up -- he lost the limb to a land mine more than two decades ago.
A steady stream of mourners, including many former followers from when he was a Khmer Rouge commander, donated money for his funeral, burned incense sticks and offered prayers before walking past to catch a glimpse of his face. Eleven Buddhist monks sat in attendance.
The ceremony, a traditional Buddhist rite, was a sharp contrast to the sinister reputation of Ta Mok and the organization he served loyally for decades. When the communist Khmer Rouge held power in 1975 to 1979, their radical policies were responsible for the deaths of an estimated 1.7 million people through starvation, overwork, disease and execution.
They herded most of the country's population into vast communes in the countryside, where everyone wore black pyjama-like uniforms designed to eliminate all traces of individuality. Religion was banned, and churches and temples sacked. The dead were disposed of unceremoniously, usually tossed in unmarked mass graves, with no mourning countenanced.
Yet yesterday, Ta Mok received the sort of memorial that he and his colleagues denied so many of their countrymen. Buddhist funeral music, blasted through a loudspeaker, wafted far into the distance. The monks chanted prayers to bless his soul as a steady stream of mourners came visiting, some in tears.
In Anlong Veng, where Ta Mok served as a tough, but seemingly generous warlord in the years after the Khmer Rouge were chased out of Phnom Penh, he is remembered with a degree of respect, partly for the public infrastructure projects he brought to the poor area.