Cambodians show gratitude for grave treasure
China Post (AP), May 15, 2007
SRE LIEV, Cambodia -- A group of Cambodian villagers held a traditional Buddhist ceremony Monday to express gratitude for jewelry they recovered from a Khmer Rouge-era grave site where their deceased compatriots were buried.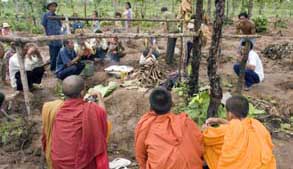 The villagers last week dug up the site at Sre Liev village in Kampot province, about 130 kilometers southwest of the capital, Phnom Penh, for gold believed to be hidden among the bodies of Cambodians who died or were killed during the Khmer Rouge era.
The communist Khmer Rouge, who ruled the country in 1975-79, implemented radical policies that led to the deaths of 1.7 million people from starvation, disease, overwork and execution. Those who perished were mostly buried in mass graves.
Three Buddhist monks led some 25 villagers in chanting prayers at the grave site, believed to hold the remains of up to 1,000 people.
"I would like for them to be properly reincarnated and to pay my gratitude for the treasure," said Srey Noeurn, a 48-year-old peasant who found a pair of earrings.
She said she had already sold one earring for 150,000 riel (US$37.5; euro28) and that it was time to show her gratitude to whoever the jewelry used to belong to.
Pheng Chea, a 29-year-old peasant, said that taking part in the prayer ceremony fulfilled a promise he made to the unknown owner of a necklace he dug up.
Digging up Khmer Rouge-era graves for valuables was common in the years immediately after the now-defunct communist movement was overthrown by Vietnamese troops in 1979.
The Sre Liev treasure hunt followed an excavation by Vietnamese soldiers looking for the remains of their fellow soldiers who died during their occupation of Cambodia. However, they found none of their comrades.