Pagodas in Cambodia retain role as boarding schools
Channel News Asia, October 22, 2004
Phnom Penh, Cambodia -- There are over 3,800 pagodas throughout Cambodia, a predominantly Buddhist country.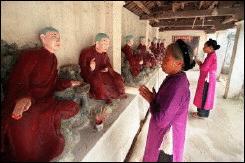 For years, these pagodas have played an essential role in preserving the Khmer national culture, by allowing youths to live and study there.
In the past, parents who couldn't afford education for their children sent them to pagodas in Cambodia to study the Khmer language, Buddhist law and general knowledge.
Today, the pagodas have kept their roles as institutions of learning. They now focus their training on higher studies. And with help and funding from both the public and private sectors, they're even able to offer scholarships.
An example is Botumvadei Pagoda, located near the Royal Palace in Phnom Penh, which has an live-in enrolment of over 700 students.
"Those who want to live here must respect the rules of the pagoda. They must help to cook and clean the place. They must take their lessons seriously, live a moral life in the pagoda and do only good deeds," said Samdech Preah Pothivong Nun Nget, 1st Vice-Supreme of the Mohanikay Sect.
Many of the young boarders in Botumvadei come from provinces far from the capital. Living in close proximity with the monks means they also have to learn discipline and prayers.
Koy Nareth, a boarder at the Botumvadei Pagoda said: "I chose to stay in the pagoda as I have no relatives in Phnom Penh. It's a quiet place, suitable for me to concentrate on my studies. I also get the chance to meet and know other boarders from different provinces."
During their free time, some of the boarders offer extra English and Math coaching to their peers. And the monks who are able to join in, also take the opportunity to pick up a new skill.