Buddhist monks march in Cambodia
By Guy De Launey, BBC News, Dec 25, 2007
The Khmer Rouge persecuted religious institutions during its rule
Phnom Penh, Cambodia -- Hundreds of Buddhist monks and nuns have been marching in Cambodia in support of the upcoming trials of the former leaders of the Khmer Rouge.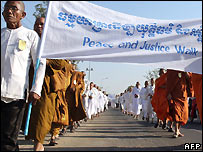 << Cambodian monks and nuns in Phnom Penh
Almost two million Cambodians are thought to have died during four years of Khmer Rouge rule in the late 1970s.
The organisation targeted religious institutions, destroying churches, mosques and temples.
Muslim and Christian leaders joined the Buddhist monks and nuns to demonstrate their support for the tribunal.
They came from around the country and marched to the special courts on the outskirts of the capital, Phnom Penh.
The organisers said the trials would be crucial in helping Cambodia to forget its troubled past and look to the future.
Funding needed
The marchers were welcomed at the courts and granted a question and answer session with officials. A spokesman for the tribunal said the marchers were told the courts were working for them.
The Khmer Rouge forcibly defrocked Buddhist monks - and closed their pagodas.
They also massacred Muslims who refused to renounce their faith, and destroyed Christian churches. Cambodia is an overwhelmingly Buddhist country.
But holding the march on Christmas Day served to draw attention to the international nature of the Khmer Rouge tribunal.
Legal officials from around the world are working at the special courts. Next month, the tribunal will appeal to international donors for tens of millions of dollars in extra funding.
Without the cash, the long-awaited process could grind to a halt.