Blessings for Cambodia's King Norodom Sihamoni as coronation nears
Channel News Asia, Oct 29, 2004
PHNOM PENH, Cambodia -- Cambodia's new monarch King Norodom Sihamoni received blessings from top Buddhist monks and his parents on Friday ahead of his formal coronation ceremony, as Phnom Penh slipped into celebratory mode.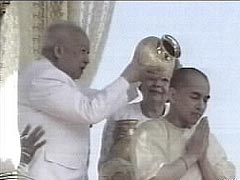 The 51-year-old king was barely known in his small Southeast Asian kingdom until he was chosen by a panel to ascend the non-hereditary throne a fortnight ago after the surprise abdication of his ageing father Norodom Sihanouk.
But he has been at the centre of Cambodia's attention since Thursday, when complex traditional Buddhist and Hindu rituals launched his three-day coronation period, which will peak late Friday with his formal enthronement.
Earlier, the shaven-headed King Sihamoni was led by priests and his half-brother Prince Norodom Ranariddh - who was also a contender for the throne - from his residence in the royal palace compound to a sacred temple.
There he prayed alone for 10 minutes as his relatives, including his parents Sihanouk and former queen Monineath, waited outside and musicians played traditional Khmer instruments.
Wearing a golden sarong, cream shirt and embroidered sash, the ex-ballet dancer then sat in a pavilion facing the rising sun as the kingdom's two seniormost monks doused him in lustral water from the northern Kulen Mountains.
His smiling parents also poured water over his head in a symbolic gesture blessing his coming reign, before the king made offerings of food to monks attending the ceremony and returned to his residence.
"It was a very happy occasion. I am very excited," Prince Ranariddh told reporters. "I have seen that Norodom Sihamoni has a character suitable for the king of the kingdom of Cambodia. He is polite and simple."
The formal ceremony is due to begin at 5pm (1000GMT) in the Throne Hall, another building in the sprawling compound on the banks of the Tonle Sap river. A national holiday has been declared to mark the day.
Until last month, King Sihamoni was his country's ambassador to UNESCO in Paris, a posting he held for 11 years. Those who know him say he is a modest aesthete who despite political inexperience may make a capable head of state.
Cambodia's monarchy, which stretches back centuries to the Angkor period and was once all-powerful, is today merely symbolic but remains important as it enjoys the respect of the vast majority of the population.
The Prague-educated and polyglot King Sihamoni has spent most of his life outside Cambodia, leaving him far removed from the murky world political world, unlike his brother Ranariddh, who heads the royalist FUNCINPEC party.
But his face is quickly becoming a familiar sight, with the capital's streets now adorned with scores of portraits, along with thousands of Cambodian flags and the occasional portrait of Sihanouk who turns 82 on Sunday.
Thousands are expected to flock to the park outside the royal palace on the banks of the Tonle Sap river Saturday to hear Sihamoni's inaugural speech.
Ranariddh said the king planned to travel to the provinces soon after his coronation. Sihanouk, who held the throne on and off for more than 60 years, enjoys particular popularity in rural areas, where he is still considered by many as a demi-god. - AFP