Spreading dharma to the masses
by Shannon Dunlap, Phnom Penh Post, April 9, 2009
Vong Savuth's radio program makes Buddhist teaching more accessible to local communities
Phnom Penh, Cambodia -- THE recording studio of Wat Bo's official radio station, 106.25 FM, is air-conditioned, sound-insulated and full of gadgetry.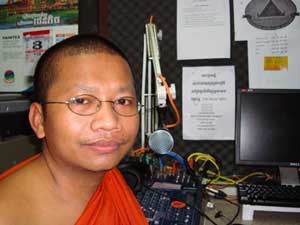 << Photo by: Peter Olszewski
Monk Vong Savuth seen in his studio at 106.25 FM, where he offers up daily life lessons to the masses.
And manning the microphone is the Venerable Vong Savuth who, despite his traditional saffron robes, is comfortable in this cocoon of modern technology, from where he spreads dharma on the airwaves.
As he readies the bank of cell phones to receive incoming calls, his tone is as smooth as the most polished professional broadcaster.
"If generous laymen and women, Buddhists and monks want to join this program," he said in Khmer, "you can make a phone call. Our topic today is 'Youth Addicted to Drugs'.
While the content can vary widely, from discussions of climate change to observations on what makes a good spouse, Vong Savuth's shows have a singular aim: to examine common Cambodian problems through the lens of Buddha's teachings and to make those lessons accessible to young people.
"Some parts of the dharma are so difficult," Vong Savuth told the Post.
"In Cambodia, 99 percent respect Buddhism, but most of them don't understand dharma - even me. Sometimes, I don't understand. But it is for everyone."
To illuminate obtuse Buddhist concepts, Vong Savuth has learned to make the most of a simple, plain-spoken teaching style and a very useful medium.
"Many people cannot read," he said, explaining the appeal of radio, which widens his potential audience from those able to read articles or make frequent trips to the pagoda to anyone with a radio.
This more egalitarian approach of passing on Buddhist wisdom is particularly important to Vong Savuth, given how difficult it was for him to obtain an education.
Raised on a pineapple farm in rural Stung Treng province, Vong Savuth had to travel 8 kilometres to school every day, fording several streams along the way.
At 17, he entered the monastery, as it was the only viable way to pursue higher learning.
These days, Vong Savuth has become a bonafide DJ, going live on the air every day from 11:45am to 12:30pm. The show was initially a project of Buddhism for Development, a local NGO, and Vong Savuth broadcast during rented time at a public station.
But the show became so popular that the abbot of the monastery, Pin-Sem, began a campaign to build the monastery's own radio station, which would be able to reserve the most coveted time slots for the broadcast of dharma rather than the news or government policy of the public stations.
------------------
Appeals for donations during Vong Savuth's show brought in enough funds to start construction on 106.25.