Hun Senís cops hunting Khmer Krom monks accused of distributing leaflets opposing 07 January
By Sok Serey, Radio Free Asia, Translated from Khmer by Socheata, 14 January 2009
Phnom Penh, Cambodia -- Five Khmer Kampuchea Krom monks are currently in hiding for their safety protection against the hunting by cops from the Ministry of Interior (MoI). The MoI accused these monks of distributing leaflets opposing the celebration of the 07 January considered as a victory day for the ruling CPP party.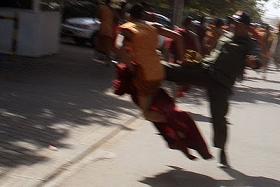 << A cop kicking Khmer Krom monk
On Thursday 14 December, Venerable Liv Phally, one of the 5 monks who are currently in hiding for their safety protection against the police arrest, told RFA over the phone from his hideout: "I went into hiding since 07 January. The reason I am in hiding is due to the accusation made by the MoI and the government, charging me of distributing leaflets."
Sok Serey: Did you distribute them or not?
Ven. Liv Phally: I did not distribute them. I did not even know what these leaflets say."
Ven. Thach Nhanh, another Khmer Krom monk who is currently in hiding also, said that he is currently living in fear.
Ven. Thach Nhanh said: "I have no shelter. I went to stay at Wat Saravoan Pagoda, they chased me out. I went to the Samaky Pagoda, they chased me out also. I am very scared about what the Cambodian government is doing to us."
Sok Serey: They accused you of distributing leaflets to oppose 07 January, is that true?
Ven. Thach Nhanh: This is not true.
RFA contacted Touch Naroth, the Phnom Penh police commissioner, to ask him about the police plan regarding this case, but he replied that he was busy.
General Khieu Sopheak, the MoI spokesman, said that he is not aware of this case.
Thach Setha, the President of the Khmer Kampuchea Krom Community in Cambodia who is knowledgeable in this affair, said that the accusations against the monks are very serious charge.
Thach Setha said: "I am asking for the government to conduct a thorough investigation, it should not get mixed up and it should not punish the innocent people like this. It instills fear among the monks, especially Khmer Krom [monks]. Therefore, we are asking that such incident does not take place."
The ruling CPP party, which controls power for the past 30 years, recently celebrated the 31st anniversary of the 07 January victory over the genocidal Khmer Rouge regime. Several thousand people celebrated the event.
The monks who are currently in hiding indicated that cops from the MoI had photos of 4 Khmer Krom monks, as well as that of another monk whose name is unknown, and these cops are hunting these monks since 07 January 2010. The monks are accused of spreading leaflets opposing the CPP's 07 January celebration.
No pagoda in Phnom Penh dare accept to provide shelter to these 5 fleeing monks.