Road to peace
The Bangkok Post, July 5, 2010
A group of Thai and Cambodian civic groups are working together to build peace between Thailand and Cambodia through cultural exchanges
Siem Reap, Cambodia -- A Cambodian song filled the air as some 10 Thai and Cambodians were playing a traditional Khmer folk game that resembles Thailand's all-time favourite mon son pha.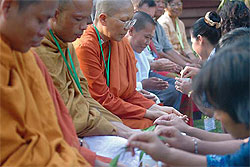 << Paying respect to monks and the elders during the recent Chol Chnam Thmey- Songkran celebrations in Siem Reap.
The fun moment was a part of the "Road to Peace between Cambodia and Thailand: Chol Chnam Thmey-Songkran" meeting recently held in Siem Reap to strengthen people-to-people diplomacy amid the two countries' diplomatic strains due to deep-rooted misunderstandings, political intervention and ultra-nationalism.
People of both countries share some traditional music, dances and words as well as celebrate the New Year the same way and at the same time. The Thai lunar New Year, or Songkran, is celebrated during April 13 to 15 when the Thai people make merit, enjoy water splashing activities and pay respect to the elders. Meanwhile, the Khmer New Year, or Chol Chnam Thmey, is celebrated during April 14 to 16.
The first day is for almsgiving and merit-making when Cambodians build sand pagodas in temple compounds. The second day is family day for people to spend time with and present gifts to their parents as well as make sand pagodas. The third day is to celebrate the New Year with traditional games and to sprinkle jasmine-fragranced water on Buddha statues and the elders.
"Why have Thailand and Cambodia been in an on-and-off relationship despite our very similar cultures? In fact, Thai culture is much influenced by the Khmer culture. I think we need to distinguish government-to-government relations from people-to-people ties," former senator and Ramon Magsaysay Awardee, Jon Ungpakorn, said.
He gave an example of Thai and Laotian people who live along the border at Chiang Khong district, Chiang Rai.
"I saw villagers paddling boats across the river. With no need of visas, they cross the border back and forth to meet and party. They are like siblings who understand each other. Some of them are the same race and speak the same language," added Jon, who is also chair of the Thai Volunteer Service Foundation.
To him, the boundaries are essentially an illusion and have become increasingly less important in the globalised world. However, governments like to play up the boundary issue for their own political gain at the cost of ordinary people.
The boundary controversy over Preah Vihear re-emerged after the anti-government yellow shirt movement in Thailand whipped up nationalism against Cambodia's attempt to nominate Preah Vihear as a World Heritage site.
"I believe those living along the borders are not in conflict and just want to trade as usual," the former senator said.
Jon noted that the conflicts between both countries were mostly caused by ruling politicians and political groups and the lack of understanding of the history and current affairs among new generations.
"Most Thais don't know about the real problems and history. They don't know what the Cambodians have been through. They don't know that Thailand once served the United States as a military base for bombing Cambodia. Personally, I would like to apologise to the Cambodians," he said.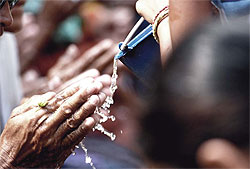 Thais and Cambodians celebrate their New Year the same way >>
According to Jon, another major cause is the failure of Thailand's educational system to teach students to appreciate neighbouring countries and to respect people of different cultures as equal human beings. As a result, Thais tend to look down on ethnic minorities and neighbouring countries.
Moreover, some distorted historical accounts in history textbooks have caused misunderstandings among both nations. Therefore, neighbouring countries should work together to co-write history textbooks to ensure accuracy, he added.
Prak Sokhany, a Cambodian member of the Working Group for Peace between Cambodian and Thai Civil Societies, said there is no curriculum that instils hatred for Thais in Cambodian students. However, she admitted that some teachers might add personal opinions to cause misunderstandings among students.
It seems to be a prevalent phenomenon. Dechudom Khunnasit, an assistant researcher at the Knowledge Network Institute of Thailand, recalled that a Cambodian teacher who is a friend of his apologised to him for having taught his students to hate Thais.
Two Cambodian young women who participated in this peace talk also added that they and a few other students were taught by certain teachers to loathe Thais when studying history about Siam's invasions of Cambodia during the ancient times.
"We were taught that the Siamese had taken things back to their country. The Preah Vihear case supported our deeply rooted belief. When another controversy emerged, there came an outburst," one of them said.
This decade has seen several incidents that marred the relations between Thailand and Cambodia. In 2003, the Thai Embassy in Phnom Penh was burned down by many Cambodians outraged by rumours about a Thai actress' remark about the ownership of Angkor Wat. Since 2008, the bilateral relations have turned sour after Thailand opposed Phnom Penh's attempt to list the Preah Vihear temple on the shared border as a World Heritage site. A spate of border clashes followed and continued until 2009. The Thai government and Cambodian Prime Minister Hun Sen have exchanged a war of words, jeopardising the bilateral ties.
Amid the government-level conflicts, Thai and Cambodian civil societies have been attempting to mend the people-to-people ties through cultural activities and consultations.
In 2008, some 100 members of Thai and Cambodian civil societies met and discussed the problems at a meeting in Aranyaprathet district, Sa Kaeo, and formed the Working Group for Peace between Thai and Cambodian Civil Societies.
On March 2, more than 20 of them met at a meeting between Thai and Cambodian civil societies in Poi Pet, Cambodia. They discussed the causes of the problems and agreed to organise a meeting for youth groups to meet and figure out their roles and duties through peace making and share their experiences as well as cultural performances under the theme of "New Year for Us All".
Hence, the "Road to Peace between Cambodia and Thailand: Chol Chnam Thmey-Songkran" on April 24 and 25. Among the agreements: the creation of future forums and websites for the continuity of peace building activities and the promotion of cultural exchanges and study trips. The participating groups also agreed to develop websites, organise dharma walks and workshops together.
In their joint statement, more than 60 Cambodian and Thai civil society actors outlined the path to peace: Tackle border tensions with peace in mind, develop common history to promote ties, encourage peace journalism, support people-to-people diplomacy, peace activities of youth and civic groups, focus on tolerance, non-discrimination, local cultures and wisdom in universal education and highlight similarities, not differences, for peace.
Duong Viroath, a freelance consultant on peace building in Cambodia, remarked that all Thais and Cambodians have a responsibility to help build peace for having been affected by the use of violence in solving border disputes.
"We want to see happiness and peace without blaming anyone. We, especially those living along the borders, have been much affected by these problems as a result of political games and vested interests. We want leaders of both countries to heed our voices and seek to create peace," he urged.
To forge friendship and trust among Thai and Cambodian people, he suggested more cultural exchanges by youth groups, who should play a leading role in peace building.
Oddom Van Syvorn, a dhammayietra (dharma walk) volunteer at Wat Svay Chas, Sisophon - who had survived the Khmer Rouge massacre - agreed that everyone has a duty to make peace.
"Adhering to the Five Precepts can lead us to peace. We can practise dharma and teach children about the Five Precepts and selflessness. People all over the world are like those living in the same house. We can deliver this message through dharma walks," she noted.
Added Phra Samai Sajjayano, a Buddhist monk at Wat Pa Thabtim in Surin province: "Both countries are in conflict because we don't learn about the cultures of each other. Otherwise, we would know the causes of problems and refrain from quarrels."
In 1997, after he graduated from a Thai Buddhist university, he joined a project for assisting those living along the Thai-Cambodian border. At a temple in Battambang, he taught Thai language to more than 70 Cambodian youths who taught him to read and write Khmer in return. Eventually, a good friendship between him and Cambodian villagers blossomed. The monk also has an ongoing campaign for Thais to present robes for needy Cambodian monks. More, his role in supporting education for 20 Cambodian novices has won the hearts of many Cambodians."We have created peace across the border. It is a matter of kindness. Some Khmer families asked me to accept their sons as my students. If we are sincere to each other, we will live together happily," Phra Samai noted.
Dhammananda Bhikkhuni, Thailand's first Theravada female monk, said that building a religious foundation between both countries is a good way to promote people-to-people relations. She herself has been active in teaching some 30 Cambodian nuns in Battambang.
To cement the ties, the Bhikkhuni suggested that the Thai and Cambodian people sincerely apologise to each other for past mistakes and learn from the painful lessons.
"Preah Vihear belongs to all mankind," she said. "We should not stress on either 'being Thai' or 'being Khmer'. We should focus on humanity instead of nationalism."