Laos PM prays for ASEAN success
CNN (AP), November 27, 2004
VIENTIANE, Laos -- The prime minister of Laos led tens of thousands of compatriots in a Buddhist holiday ceremony at a golden-spired temple Saturday, praying for the success of an Asian summit with a VIP guest list never before seen in the reclusive communist country.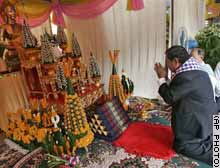 << Lao Prime Minister Bounnhang Vorachith prays for ASEAN success.
"I and all the Lao people are making merit today for the prosperity of the nation and wish that Lord Buddha will bless us for the peaceful success of the summit," Prime Minister Bounnhang Vorachith told The Associated Press.
Bounnhang will join 15 other Asian leaders for the Association of Southeast Asian Nations summit opening Monday, including regional heavyweights China, Japan and India.
Meetings preparing for the summit have been under way in Vientiane since Thursday.
Bounnhang, his wife and members of the ruling politburo were among the pre-dawn visitors to the country's main temple, the five-story-high Thatluang pagoda, said to hold a relic of Lord Buddha.
About 30,000 people streamed to the temple to mark the annual Wai Thatluang festival, offering flowers, food and money to monks. Most people sat on the temple's lawn, holding candles and joss sticks.
Although staunchly communist, religion plays an important role in the lives of Laotians -- ordinary people and government leaders alike -- and Wai Thatluang is the most important festival of the predominantly Buddhist Laos.
"Even though today is the annual merit-making day, I am taking this opportunity to wish that Lord Buddha will bless us with a successful meeting and drive away unwanted incidents," Bounnhang said in a short interview in the temple.
The women came dressed in holiday finery of silk skirts, long-sleeved shirts and sashes running across their torso. The men wore checkered scarves around their chest, a symbol of modesty.
The devotees were far fewer than other years because the government asked rural residents to stay away from Vientiane to avoid security headaches and traffic jams during the ASEAN conference.The festival was curtailed from the normal 10 says to three.
The leaders of the 10 ASEAN countries will be joined by counterparts from China, Japan, South Korea, India, Australia and New Zealand for the two-day summit.
It is the biggest such event hosted by Laos, a country of 5 million people.
After the prayers, the temple's chief monk said in a sermon broadcast on loudspeakers: "Today is a good omen day for Buddhists to make merit, where Buddhists purify the mind and ask for his blessing."
"I urge all of you to pray for the successful of the (ASEAN) meeting and also help the government by being good hosts," he said.