Laos to protect ancient capital to preserve World Heritage status
AFP, July 29, 2008
HANOI, Vietnam -- Laos has halted plans for new hotels in the town centre of the ancient royal capital Luang Prabang after receiving a warning from UNESCO about its World Heritage status, media reported Tuesday.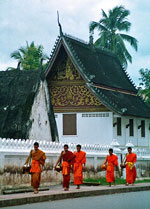 The city's heritage office chief, Manivone Thoummabouth, said the provincial government had decided not to allow foreign investors to turn any more state buildings into hotels, the Vientiane Times reported online.
"There are many hotels in the city and if more are built, the area would be too crowded with tourists, causing difficulty for state officials to access their workplaces," she was quoted as saying by the daily.
The 700-year-old former capital, seen as the jewel of ancient Lao heritage, is a Mekong river town of glistening Buddhist temples and palm-shaded French colonial mansions that draws hundreds of thousands of tourists a year.
The UN cultural agency warned in a 2004 report that development pressure had placed "critical stress on both the environment and the historic cultural resources of Luang Prabang and threatens to overwhelm them."
In recent years local authorities have rented out state buildings to foreign investors, including the provincial hospital, while residents have filled in ponds and wetlands for more construction.
The UN Educational, Scientific and Cultural Organisation late last year sent heritage officials to assess how the town had changed since being listed as a World Heritage site in 1995, the newspaper report said.
Manivone said UNESCO officials briefed her in Canada last month and offered the Lao communist government 15 recommendations, mainly about managing construction and the restoration of buildings in the town.
"UNESCO has given us until next year to fulfil its recommendations, otherwise they will issue a red card warning to the government," she was quoted as telling the newspaper. "The government has made a strong commitment that it will do its best to fulfil the recommendations."