Healthcare relief for the poor
VNS, November, 14 2011
THUA THIEN-HUE, Vietnam -- Free health care for the poor by Buddhist monks and physicians in Tue Tinh Duong clinics in central Thua Thien-Hue Province is saving lives and boosting moral.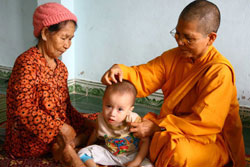 << A Buddhist nun takes care of a disabled boy at a charity health centre in the central province of Thua Thien-Hue. — VNA/VNS Photo Ho Cau
One such clinic has 30-36 good doctors who are also monks. Other doctors are contracted from outside.
Tue Tinh Duong Lien Hoa Clinic, located in Phap Luan pagoda's grounds in Hue city's Phu Hoi Ward, was founded in May 2005 and led by Venerable, physician-monk Thich Tue Tam, the Abbot and executive director.
The clinic's treatment method is the combination of oriental and western medicines, with priority given to traditional medicines. Monk physicians have spent a long time researching and making up the many precious remedies for serious diseases, including degeneration of the backbone and joints, kidney stones, high blood pressure, infertility, nervous disease, oedema and so on. They also apply traditional methods, such as acupuncture, physical therapy, vegetarianism, nurturing vitality.
Physician-monk Thich Tue Tam said the clinic was established in 1982 under the management of the local Buddhist Sangha. Sympathy Tam's human hearts, Master Thich Phap Nhan in Lien Hoa pagoda in the United States and Vietnamese buddhists in many countries and charitable organisations have contributed money to build the Tue Tinh Duong Lien Hoa Clinic.
The clinic had many difficulties, such as poor infrastructure and a narrow area. There were six doctors providing health care and delivering drugs to poor patients.
"I have seen a lot of poor people who have to fight disease and poverty. I am moved to tears. I want to use the monks' medical knowledge and conscience to save the patients' lives," Tam said.
Tam said the clinic provided health care and treatment for 200-250 people every day. Each year, the clinic served more than 50,000 patients. Some patients only had to pay 50 per cent of the drug bill. Some just paid the drug's wholesale price. Better-off patients would pay enough for treatment and services.
The clinic was now recognised as a "charity clinic" and had become internationally known. It attracted not only Vietnamese patients but also others from countries such as Laos, Thailand, Cambodia and the US.
Tran Thi Tuyen, 52, of central Quang Binh Province's Bo Trach District said her family didn't have the funds to treat her arthritic husband.
"I came here early this morning but had to wait till lunchtime for treatment because it was too crowded. My husband has been in pain for five years while my family takes care of the farming and four children. We had no money to treat him and then I heard of a physician-monk who gives free health care to the poor."
Tran Quang Thinh, of Thua Thien Hue Province's Quang Dien District, said he was too poor to pay for medical treatment and the poverty was causing great distress in his family.
He had sciatica, his wife had a similar back pain, three of his five children were suffering from malnutrition and neurasthenia, a debilitating disorder characterised by impairment of the functions of the spinal cord.
"I'm really grateful the clinic's physicians treated my family," Thinh said.
For people in remote areas who find it difficult to access health care, the physicians have organised 8-10 mobile clinics to provide free health examinations. The clinic has treated 2,000-2,500 patients at an average cost of VND50 million (US$2,380) per trip.
Another free clinic for underprivileged people, Tue Tinh Duong Hai Duc, treats 100-150 patients a day, mainly from central provinces.
Venerable Thich Tam Quang of the clinic said he had saved enough money to buy medical equipment and expand health care services to rural areas.