Monk destined to collect Buddha idols
Thanh Nien News, January 1, 2013
Hanoi, Vietnam -- Thich Tu Nghiem, a Buddhist monk, came across museums and exhibitions of Buddha idols in many Asian countries he went to, and decided that Vietnam needs one as well.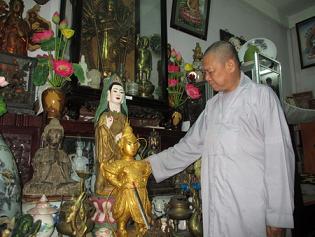 He started his collection more than ten years ago and now has nearly 300 statues, most of them between 300 and 700 years old. He is now considered by researchers as having the biggest private collection of its kind in Vietnam.
Some of the statues are on show at the first exhibition for local private collectors in the central city of Da Nang. Some were displayed at two Buddhism festivals in the city years ago.
But Nghiem is still looking forward to a grand display for the entire collection.
Now in his 50s, Nghiem, a monk since he was 12, has made pilgrimages to around ten countries. Many of his statues were brought back from China, India, Laos, Cambodia, Thailand and Japan, while others were gifted by local collectors or Buddhism followers.
Nghiem feels the statues can tell the history and culture of Buddhism in each country.
"For example, although it all started in India, Buddhism has received different adaptations when it was brought to China and Vietnam, compared to Thailand or Cambodia.
"They integrated Buddhism with the distinctive local culture," said the monk from Pho Da Pagoda in the central city of Da Nang, who took up collecting statues as his second interest after reading Buddhist books.
His collection statues, made of different materials including bronze, wood, silver, pearl and terracotta, also reflects different cultures.
One rare statue shows a Buddha in loincloth and a hat with bird feathers, which is a typical costume of Vietnamese people during the reign of the Hung kings, Vietnam's first civilization dating back to between 2879 and 258 BC. Nghiem said that might suggest Buddhism came to Vietnam thousands of years ago.
Nghiem also has a Chinese statue of Siddhartha Gautama lying awake on a couch made in the 18th century, and an Indian statue of the Gautama Buddha with black hair.
The collection also shows Buddhism at its nadir during Tay Son, a period of peasant rebellions and decentralized dynasties between 1788–1802, when Confucianism was promoted more heavily than Buddhism.
It includes many Buddha statues from Champa, an Indianized kingdom that ruled in what is now parts of southern and central Vietnam from around the 7th century to 1832.
Among the collection is an epony statue of Maitreya – the smiling bodhisattva who is typically portrayed seated on a throne in simple dress; a 500-year-old bronze statue of Vairocana – celestial Buddha often interpreted as the Bliss Body of Siddhartha Gautama – from the Chinese Ming Dynasty; a relief of a devotee dating back a millennium ago; and a 700-year-old bronze statue of Amitabha who is said to possess infinite merit resulting from good deeds over countless past lives.
One of the most notable items in his collection, according to Nghiem, is one of Guanyin, known in Asia as the Goddess of Mercy who has the power to deliver the dead to Nirvana. This Buddha was carved on a piece of fossilized wood nearly a thousand years ago.
Some local collectors said the monk was offered VND500 million (US$24,000) for the statue but he was not interested.
Nghiem keeps a full set of three Holy Mountain Buddhas of the Chinese Qing Dynasty from more than 200 years ago that was collected over two years. Among them, the Siddhartha Gautama statue was fished out of the sea in Da Nang, and two meditational deities Mañjusri whose name can be translated into "Gentle Glory" in Sankrit were bought from Ho Chi Minh City and the third one was found in the Central Highlands town of Da Lat.
"The statues are one unit but they were separated and lost. Then, thanks to their destiny, they found each other again," the monk said.
He considers his whole collection something that was also destined to happen.
One time he went to Ho Chi Minh City for another set of three buddhas from 500 years ago – Siddhartha Gautama's Bliss Body Vairocana, the Siddhartha Gautama and his successor Maitreya, who Buddhists believe will appear on Earth, achieve complete enlightenment, and teach people. The set represents the past, present and future.
When he found the shop, he learned that another buyer had previously offered VND30 million ($1,440) for the statues, but the seller turned it down. Nghiem only had half the money, but the seller agreed to part with it.
That other buyer returned when he was about to take the set. The man made no complaint about the statues being given to lower offer, but also gifted Nghiem a 700-year-old statue of the Buddha in Nirvana after hearing about his exhibition plan.
Firm in his belief that his collection was meant to happen, Nghiem said he has never thought of selling any statue for any reasons.
Most of the space in his room of less than 25 square meters is taken up by the statues.
Nghiem said he has his eye on many more statues, but has not been able to get his hands on them yet. So he has hired people to paint them, and hangs the drawings around the room.
"My biggest wish right now is to be able to build a museum at the pagoda where I can display the statues to all followers, so they can understand and learn more about different sides of Buddhism culture."