Buddhists flock to Vietnamís largest temple for Vesak
VietNamNet Bridge, May 9, 2014
Ninh Binh, Vietnam - Tens of thousands of Buddhists from across the country have flocked to Bai Dinh, the largest temple in Vietnam, to attend the opening celebration of Vesak 2014, the international Buddhist event that takes place from May 7 to 11.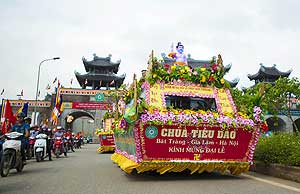 Vesak 2014 began on Wednesday but it officially opened the following day, May 8. On Wednesday afternoon, tens of thousands of monks and Buddhists from all provinces flocked to Bai Dinh Pagoda in Gia Sinh Commune, Gia Vien District of the northern province of Ninh Binh.
This year, the 11th Vesak is integrated with the international Buddhist conference hosted by Vietnam. This is an important event that will help enhance the role of Vietnam Buddhism in international integration and confirm the position and responsibilities of Vietnam to the United Nations.
On Thursday morning, the Vesak opening ceremony took place, with approximately 10,000 participants, including nearly 1,500 international delegates from 95 countries around the world, along with tens of thousands of Vietnamese Buddhists and people.
On Wednesday afternoon, thousands of Buddhists took part in a march from the city of Ninh Binh to Bai Dinh Temple.
The 11th United Nations Day of Vesak celebrations were launched on May 8, 2014 at the Bai Dinh Pagoda in the northern Ninh Binh Province in Vietnam.
The celebrations, which ended on Sunday, were hosted by the National Vietnam Buddhist Sangha (VDS), and attracted more than 10,000 Vietnamese and foreign Buddhists and over 1,000 domestic and foreign delegates.
The event's message was Buddhist Perspective Towards Achieving the UN Millennium Development Goals.