2,000-year-old Buddhist texts on show in central Vietnam
TUOI TRE NEWS, Apr 28, 2016
Thua Thien-Hue, Vietnam -- Gandharan Buddhist manuscripts dating back 2,000 years have been put on display at an exhibition in Vietnam's central province of Thua Thien-Hue.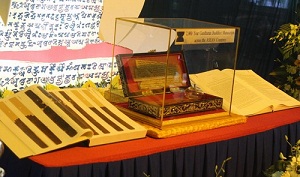 << The Gandharan Buddhist Manuscripts on display at Huyen Khong Temple in Huong Ho Ward, Huong Tra Town, Thua Thien – Hue Province on April 26-27, 2016
The Exhibition of Gandharan Buddhist Manuscripts was opened on Tuesday at the Huyen Khong Temple in Huong Ho Ward, Huong Tra Town.
Hand-written on palm-leaf manuscripts are sections of The Tripitaka (Three Baskets), the Buddhist scriptures teaching sermons, monastic law, and metaphysics; as well as Mahayana texts.
The manuscripts are estimated to have existed since the first century CE, and are part of the Schoyen Collection which has been strictly preserved at the national museum of Norway.
The Buddhist Sangha of Thailand had earlier proposed to the Norwegian government to borrow the manuscripts for religious exhibitions in Thailand, other Southeast Asian countries, and India.
"We must remember the destruction of the Buddhas of Bamiyan statues by the Taliban government at the beginning of the 21st century. It was near the site of those statues that these palm-leaf manuscripts were found," Osho Thich Thien Tam, vice president of the Affairs Council of the Buddhist Sangha of Vietnam, said.
"The unearthed manuscripts lay in the cave system between Pakistan and Afghanistan, and were later transferred to Norway to be kept as part of the Schoyen Collection," he added.
Earlier, while attending the World Peace Buddhist Conference held at the Sitagu International Buddhist Academy in Sagaing, Myanmar in January, Thero Phap Tong, abbot of Huyen Khong Temple, had had a chance to appreciate the items.
Realizing their significance, Thero made contact with Siam Saenkhat, a Norwegian government official, requesting that he bring the artifact to Vietnam for display.
Thousands of visitors and Buddhists have flooded into Huyen Khong Temple since early Tuesday to witness firsthand the 2,000 year old Buddhist manuscripts.
Aside from representatives of the Affairs Council of the Buddhist Sangha of Vietnam and senior monks from across the country, the exhibition's opening ceremony also welcomed the presence of international guests.
These included Elder Phra Brahmsiddhi, member of the Supreme Elder Monks Council of the Buddhist Sangha of Thailand, Elder Phra Thepbodhivides, head of the Division for Offshore Missionaries in India and Nepal, as well as monks, Buddhists, and reporters from Thailand, Laos, and other countries.
"I'm so glad that the manuscripts that have been recognized as a tangible piece of cultural heritage by UNESCO and have finally been brought to Hue, a land with a rich Buddhist tradition," Thero Phap Tong said.
"We have heard of thousand-year-old books, but these manuscripts date back to 2,000 years ago. These are priceless treasures that serve as solid evidence of Buddha's teachings and the prosperous days of Buddhism 2,000 years ago," he added.
The exhibition lasted for two days, concluding on Wednesday evening.