Vietnam Buddhist Sangha's contributions celebrated at conference
VNS, November, 4, 2016
Ho Chi Minh City, Vietnam -- Vietnam Buddhist Sangha (VBS) has contributed to enriching and developing the country's culture, the rector of HCM City University of Social Sciences and Humanities said at conference held on Wednesday.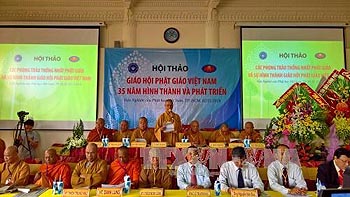 << The Vietnam Buddhist Sangha's contributions to the country was celebrated at a conference organised by the University of Social Sciences and Humanities in co-operation with the Vietnam Buddhist Studies Institute. —VNA/VNS Photo Tha Anh
The conference was organised to celebrate 35 years of the VBS's development.
Assoc Prof Võ Van Sen, head of the university's History Faculty said the VBS has made many contributions in the fields of education, healthcare and social welfare as well as culture.
Vietnam Buddhism has contributed to building a peaceful life in harmony with the environment, Sen said, adding that it had helped unify the country nationwide and preserved the national character during global integration.
The most venerable Thích Thian Nhon, chairman of the VBS's Central Dharma Executive Council, said that the community had active contributions to the country's development, especially in the fields of culture and society.
The VBS has set up administrative organisations from the central to grassroots levels in all provinces and cities throughout the country.
The country has a total of 49,439 monks and nuns. More than 18,340 Buddhist pagodas, monasteries and other facilities exist, with more than 16 million Buddhist members.
Lê Thanh Hui, former Secretary of the city's Party Committee, said the country has four Buddhism institutes training more than 2,000 monks and nuns. More than 4,800 people have graduated with a bachelor's degree in Buddhism studies.
Nearly 100 monks and nuns have received master's and doctoral degrees, he said, adding that nearly 400 are now studying for similar degrees in India, China and other countries.
The Sangha has more than 1,000 social welfare establishments and 126 Tui Tinh health clinics that provide free services to patients, and 950 charity classrooms for poor children and orphans.
The VBS has received the Ho Chí Minh Medal two times for its contributions, according to H?i.
The Government has allocated funds for VBS to translate the Tipitaka known as the Buddhist Canon from Pali, English and Chinese into Vietnamese for monks, nuns and Buddhists to study, Hui said.
VBS also helps fight against superstition and behaviour that could affect the country's benefits and violate people's right of religious freedom, he added.
The conference, which attracted 100 attendees, was organised by the University of Social Sciences and Humanities in co-operation with the Vietnam Buddhist Studies Institute.