Special Buddhist school underway
VNS, Nov 8, 2004
HA NOI, Vietnam -- The foundation stone for the VND42 billion Viet Nam Buddhist Institute was laid on Saturday at Ha Noi?s outlying Soc Son District. The stones were specially brought for the ceremony from the Nalanda Buddhist College in India and from Nepal.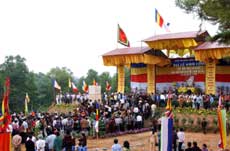 The Buddhist institute is being build on an 10.5ha area, and will have a museum and library. A hall to seat 1,200 people has been planned for the institute, expected to be completed in 2015. The institute will enrol 1,500-2,000 students.
At the ceremony, the Most Venerable Thich Thanh Tu, Vice Chairman of the Executive Council of the Viet Nam Buddhist Sangha Congregation (VBSC) and the Director of the Viet Nam Buddhist Institute, stressed on the significance of the institute to the development of Buddhism in the country.
He said the institute will improve the training of monks and nuns, and contribute to research and co-operation with Buddhist universities at home and abroad.
Thich Thanh Tu called upon Buddhists, monks, nuns, as well as organisations and individuals to contribute to the construction of the institute so that it can begin operation by 2006.
Addressing the ceremony, President of the Viet Nam Fatherland Front Pham The Duyet praised the contributions of Buddhist monks, nuns and followers to nation building and defence, promoting Viet Nam?s position in the world. He said as part of the National Unity Bloc and as a member of the VFF, the VBSC should build on its fine traditions in the new period.
A styrax tree, gifted by Indian President Abdul Kalam to a Vietnamese Buddhist delegation in February 2004, was planted at the institute on the occasion.
"Buddhism is developing strongly in Viet Nam," Most Venerable Thich Tri Quang, Vice chairman of the VBSC, said.
Thich Tri Quang, who is also Head of VBSC Central Committee?s Dharma Dissemination Department, said Viet Nam has currently 40,000 monks and nuns, around 10 million Buddhist followers, and 14,500 places of worship.
Every year, hundreds of pagodas and places of worship are being built or repaired with contributions from followers at home and abroad. The monk said the VBSC intends to increasingly promote Buddhism in mountainous areas, aiming for even development throughout the country.
Ngo Yen Thi, head of the Government Committee for Religious Affairs, also sent greetings to the Patriarch and members of VBSC, monks, nuns and Buddhists on the 23nd anniversary of VBSC?s founding.
On behalf of VBSC, Deputy Chairman of the VBSC?s Executive Council, most venerable Thich Thanh Tu, thanked the Party, the State and the National Fatherland Front.
VBSC would effectively contribute to the country?s development and disseminate Buddha?s philosophy, he added.