Records on Vietnamese Buddhism
VietnamNet, Jan 4, 2006
Vietnam Record Book (VietBook) has announced ten Vietnamese Buddhist records.
Ho Chi Minh City, Vietnam -- In VietBook, Dai Tong Tam Pagoda in Ba Ria – Vung Tau is recognized as having the biggest sanctum in Vietnam. Constructed in 2002, it comprises two floors, 91m long and 40m wide.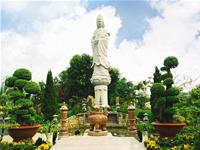 << Vietnam's heaviest Buddhist statue at Hue Ngiem 2 Pagoda in Ho Chi Minh City.
HCM City Buddhism Academy is Vietnam's biggest Buddhism academy. It was founded in 1983, and around 1,000 Buddhist monks have graduated from it thus far.
The longest Buddhist statue in Vietnam is the white reclining Buddha on Ta Cu Mountain, Binh Thuan Province. It is 49m long and 11m high, and was made from 1963 to 1966.
Vietnam's tallest Buddhist statue is located on Cam Mountain at Phat Lon Pagoda in An Giang Province. It is 31.6 m high.
Vietnam's heaviest Buddhist statue is at Ho Chi Minh City's Hue Ngiem 2 Pagoda. It is 12m high, and made from 60-tonnes of monolithic granite.
Soai Tong Pagoda in An Giang Province has the most sets of leaf prayer-books. Made from a leaf known as Buong or Satra, the prayers are written on 6x60cm leaves in ancient Kh'me language. Each leaf contains about 100 ancient Kh'me characters.
The oldest set of wooden prayer-books, written on 118 wood boards, is kept in Phat Quang Pagoda in Phan Thiet City, Binh Thuan Province. It is one of the two most important prayer sets of Dai Thua Buddhism.
Vietnam's largest pair of candles was made by monk Thich Hien Chon. They are 3.83m high and 2.1 tonnes. Previously, the monk made a 3.04m high, 1,800kg pair in 2003.
Vietnam's tallest Thich Ca Buddhist statue is at Linh Ung Pagoda, Da Nang. It is 27m high.
Photographer and author of "Vietnam's famous pagodas", Vo Van Truong has the largest collection of pagoda photographs in Vietnam. He has been photographing them since 1989, and now owns 226,780 photos and 3,800 slide films of 2,016 pagodas in 59 cities and provinces, and five surrounding countries.