Police stops young Buddhists from going on pilgrimage
AsiaNews/Eda, November 18, 2004
Ho Chi Minh City, Vietnam -- Vietnamese authorities stopped and interrogated members of the Vietnamese Buddhist youth movement ?The Family? who were on their way to India on a pilgrimage. National security was given as the reason. They had agreed to meet in early November at Ho Chi Minh City?s International Airport and then go on a pilgrimage to the places where Buddhism was born.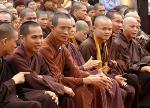 As they prepared to board their flight, they found that their names were on a list of people not allowed to leave the country. After police interrogation at the airport, they were released and handed a note stating that they were stopped for ?national security reasons?.
The trip had been planned a year in advance and the participants had filled out all the necessary procedures to obtain both passport and visa.
Why the police deemed the trip ?a danger to national security? remains a mystery. It might however fall under the new Ordinance on Beliefs and Religions law which guarantees ?freedom of worship? but under the ?control of the state?.
The incident caused commotion in Vietnam?s Buddhist community. The young pilgrims wanted to visit Buddhism?s holiest sites in India and take part in the ?World Movement of Vietnamese Buddhist Youth?. They were also supposed to meet other movement members living abroad. An estimated 20,000 are in fact settled outside Vietnam.
The congress took place in Bodhgaya (India) and was attended by members from the US, Canada, Europe and Australia.
At the end of the proceedings, participants adopted a double resolution. In the first part, they deplored the absence of delegates from Vietnam. The travel ban shows the authorities have contempt for their own laws and international rules. In the second part, they asserted the support of young Buddhists to religious freedom and backed their demand for official recognition.