More than 400,000 faithful make pilgrimage to Perfume Pagoda
VNA/VNS, Feb 4, 2006
HA TAY, Vietnam -- More than 400,000 of pilgrims flocked to the Huong (Perfume) Pagoda in the northern province of Ha Tay's My Duc district for Viet Nam's largest annual religious festival, which started yesterday, the sixth day of the Lunar New Year.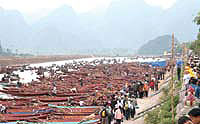 << People travelled by boat on the Yen River yesterday to attend the opening ceremony of the Huong (Perfume) Pagoda Festival 2006 in My Duc District in the northern province of Ha Tay. — VNA/VNS Photo Trong Duc
The three-month festival attracts hundreds of thousands of Buddhist pilgrims and tourists from all parts of the country, as well as overseas Vietnamese and foreign travellers. They come to worship Buddha and Avalokitasvara, one of his disciples, and to pray for happiness and good luck throughout the new year.
Surrounded by the limestone Huong Son mountain, the area is renowned for its natural beauty, especially in January and February when apricot trees are in bloom.
Legend has it that the festival began when pilgrims came to worship a princess–thought to be a reincarnation of Avalokitasvara–named Dieu Thien, who was believed to have attained enlightenment on the mountain. As the princess was born on the 19th day of the second lunar month, that date is now observed by many Vietnamese Buddhists as a holy day.
The altar where she practised her religion was discovered in the 15th century by three monks. It was not until 1687, when Superior Bonze Tran Dao Vien Quang arrived, that Huong Son (Perfume Mountain) was dedicated as a Buddhist sanctuary and became the most important place of worship for Buddhists in Viet Nam.
Pilgrimages to Huong Son dwindled to a trickle during the war years, and the temples and shrines fell silent. In 1958, after the restoration of peace in North Viet Nam, President Ho Chi Minh personally called for the repair of the pagodas and temples and the resumption of the annual festival.
During this year's opening ceremony, locals held many folk art performances. Provincial officials said the newlyopened 1,200m cable car, which spans from Thien Tru Pagoda, stops at Giai Oan Pagoda, and ends at Huong Tich Cave, was expected to reduce crowding during the festival. However, many visitors said they were unable to buy tickets for opening day.
Ha Tay Province has spent tens of billions of dong upgrading Giai Oan Pagoda, Tu Van Temple and Tuyet Kinh Cave and on restoring numerous statutes throughout the site, according to Nguyen Manh Tien, chairman of the Huong Son Village.
He said the province plans to continue upgrading the road linking Ben Tro with Huong Tich Cave this year. "And, we are preparing to compile documents and files relating to Huong Pagoda for submission to UNESCO and recognition for designation as a World Heritage Site," Tien added.