Bronze Pagoda restoration begins
VNA, June 5, 2006
Hanoi, Vietnam -- A VND 20bil project to restore the Dong (Bronze) Pagoda on Yen Tu Mountain, a scenic and historic site associated with the Truc Lam meditation sect, was officially launched on Saturday.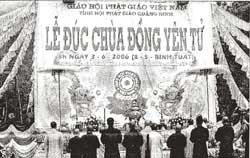 << The launch of a project to restore the historic Dong (Bronze) Pagoda located in the northeastern province of Quang Ninh.
The pagoda, in the northern province of Quang Ninh, has long been a destination for pilgrims. About 60-70 tonnes of bronze will be needed to fashion the new 20sq.m pagoda. Pilgrims will be able to see the refurbished Dong Pagoda by the end of the year, appearing as a bronze lotus 1,068m above sea level on the highest peak in the northeast.
Costs for the restoration are being shared by organisations, individual donors and Buddhist faithful.
Speaking at the launching ceremony, Most Venerable Thich Thanh Quyet, director of the Quang Ninh provincial Buddhist executive board, said as much as VND116bil had already been invested to restore and embellish the Yen Tu historic site.
Located some 130km northeast of Hanoi, Yen Tu has been an important Buddhist pilgrimage destination since the 10th century.
Buddhist history recounts that, at the end of the 13th century, after defeating Mongolian invaders. King Tran Nhan Tong abdicated the throne in favour of his son Tran Anh Tong and moved to Yen Tu to practise a religious life. He founded the Truc Lam (Bamboo Forest) Zen Buddhist sect.
Yen Tu nowadays is not only a religious site but is included on many tourist itineraries.The number of tourists and pilgrims visiting the sacred mountain has increased every year, from 50,000 in 1993 to over 400,000 today.
The Dong Pagoda, built during the Le Dynasty (1428-1527), stands out among dozens of pagodas, shrines and towers on the mountain in the Thuong Yen Cong Commune of Uong Bi township.