Vietnamese monk fears ban on re-entry after award
Reuters, Sept 28, 2006
HANOI, Vietnam -- A Buddhist monk, who is confined by the Vietnamese government to his monastery, fears he would be prevented from returning to Vietnam if he travelled to Norway to receive a human rights award, his supporters said.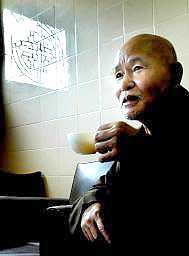 << Ven. Thich Quang Do
In a statement late on Wednesday, the Geneva-based Vietnam Committee on Human Rights said Thich Quang Do told them that "if he went to Norway, Vietnam may never let him return".
Its not even clear if Do, 77, would be allowed to travel to Norway to receive the award from the Thorolf Rafto Foundation for Human Rights, which has four times in the past anticipated the choice of the Nobel Peace prize winner with its own award.
The foundation last week chose Do for his "personal courage and perseverance through three decades of peaceful opposition against the Communist regime in Vietnam and as a symbol for the growing democracy movement".
In its statement, the Vietnam Committee on Human Rights urged the government to lift its ban on Do's group, the Unified Buddhist Church of Vietnam (UBCV), release him and let him go to Norway.
The award ceremony is on November 4 in Bergen, Norway. Four previous Rafto recipients went on to win the Nobel Peace Prize.
Asked whether Do would be allowed to travel, Ministry of Foreign Affairs spokesman Le Dung said: "The immigration matter of Thich Quang Do or of other citizens is conducted in compliance with the regulations under Vietnamese laws".
Do, who has spent 25 years in detention, is deputy leader of the Unified Buddhist Church of Vietnam.
Rights groups say that as long as the Communist government outlawed the UBCV, Do was an "illegal citizen" and could not leave his monastery in Ho Chi Minh City.
A Norwegian parliamentary delegation, making a previously scheduled visit, on Monday urged Hanoi to ensure the monk was free to travel to Norway, diplomats and rights groups said.
European governments and the United States have praised Vietnam for improving its religious rights record in the past two years as the country moves toward joining the World Trade Organisation this year. In November, it will host the Asia-Pacific Economic Cooperation forum summit.
But it has not lifted the ban on the UBCV, which rejects the conditions of state supervision placed on all faiths.
The government last week sent a senior Vietnamese security official to visit its 86-year-old patriarch, Thich Huyen Quang, who has been in poor health.