Thai antiquities unveiled to show true face of Buddhist culture
VietNamNet Bridge, Nov 10, 2006
Hanoi, Vietnam -- An awe-inspiring array of Thailand's antiquities has surfaced from the storage room of the National Museum of Vietnamese History to put a physical face on Buddhist culture.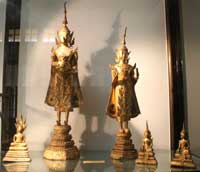 << Thais that bind: Buddha statues in bronze inlaid with gold date from the 18th and 19th centuries.
Starting today, visitors will have chance to admire 200 objects for either domestic or ritual use, including abundant amounts of ceramic, bronze and wood materials dated from 19th and 20th centuries all the way back to the 4th century BC.
The domestic section presents the collection of complex decorated ceramic wares made of many precious pottery materials like Sawankalok plates, celadon glazed ceramics or polychrome enamel fruit trays. Most of the displayed objects project Buddhist motifs or were used in offerings to Buddha.
Statues of the Buddha in the collection are bronze enamel with gold decorative patterns that demonstrate skilful and clever hands of the ancient Thai artists as well as the historical development of typical Buddhist characteristics in Thai culture.
Apart from motif and ritual activities of Buddhism, the Thai national religion, appearance of Shimha lion, Garuda mythical bird or Kinari celestial female singers made of wood or oyster shells introduces the Thai architectural decorations influenced from the art style of Hinduism.
"The abundance and diversity of Thai culture is clearly shown in the exhibition here," said Vu Quoc Hien, vice director of the host museum.
Objects on display were mainly excavated from shipwrecks found in Vietnam's Kien Giang Province.
The exhibition is one of many activities to welcome the 14th APEC meeting and display 30 years of co-operative relations between Vietnam and Thailand.
The objects will be on display at the National Museum of Vietnamese History every weekday until January 15.