Many Buddhist records set in South Vietnam
VietNamNet Bridge, Nov 22, 2006
Ho Chi Minh City, Vietnam -- The Vietnam Record Book Centre (VietBooks) has announced 43 new records associated with Vietnamese Buddhism, including over 20 set in the South.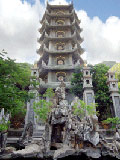 << Xa Loi tower in the central city of Da Nang, where hundreds of stone statues and stone objects are kept (photo: VietBooks).
Among those records are the 1,600kg statue of the Goddess of Mercy in ebony at the Suoi Tien tourist site in HCM City; a seven-story, 14m stone tower in the Vinh Nghiem Pagoda in HCM City; a pair of candles of 2,100kg, 3.83m height in An Phu Pagoda, HCM City; the statue of Mitreya on Cam Mountain, southern An Giang Province, which is 526m above sea level; and the Soai Tong Pagoda, also in An Giang province, which still preserves many prayers written on buong leaves.
There were ten new Buddhist records set in the north and seven in the central region, including the bell tower of the Thien Mu Pagoda in Hue City, the highest ancient octagonal tower; 49m long Buddhist statue on Ta Cu mountain, Binh Thuan Province; Xa Loi tower at Linh Ung Pagoda, Da Nang City with hundreds of stone statues and objects.
In addition, there were 5 separate records set: Ky Quang 2 Pagoda in HCM City - the pagoda that nurtures the highest number of disabled children and orphans; "The history of Sakyamuni" - the first Vietnamese feature film about Sakyamuni; Phuong Hong in Khanh Hoa Province - the painter who has drawn the largest number of paintings on Buddhism; Au Lac Vegetarian Food Co, Ltd - the firm that produces the most kinds of vegetarian food; the first telpher system - Ba Den Mountain, Tay Ninh Province.
VietBooks said that between 2007 and 2010 it would organise trans-Vietnam tours to promote 100 Buddhist records in Vietnam, launch a photo contest titled "Buddhism and life" and throw the largest vegetarian party in Vietnam.