Another four Buddhist records go into the books
Source: Thanh Nien, Lao Dong, Compiled by An Dien, Thanh Nien News, Jan 22, 2007
Hanoi, Vietnam -- The Vietnam Guinness Book Center (Vietbooks) has honored four Vietnamese people for newly-recognized Buddhism-related records of academic and cultural significance.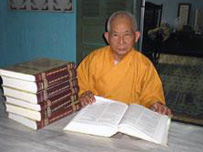 The first prestigious honor was bestowed on Revered Monk Thich Minh Chau, known to have translated 17,251 pages of the Pali Sutra.
Chau reportedly translated all the main sutras belonging to the Buddhist's Theravada doctrines, namely Truong Bo Kinh (Digha Nikaya), Trung Bo Kinh (Majjiima Nikaya), Tuong Ung Bo Kinh (Samyutta Nikaya), Tang Chi Bo Kinh (Anguttara Nikaya), and Tieu Bo Kinh (Khudaka Nikaya).
Besides, he also composed other Buddhism-related works like Phat Phap (Dharma) or Cac loi day cua Duc Phat ve hoa binh, hoa hop va nhan pham con nguoi (Some teachings of Lord Buddha on Peace Harmony and Human Dignity).
The second honor went to Revered Monk Thich Tri Tinh, hailed for having translated the largest quantity of the Mahayana Buddhist Sutras in Vietnam.
Popular translated works made by Tinh are Pham Vong (sa. brahmajala), Hoa nghiem (sa. buddhavata?saka), or Dai Bat nha Balamat-da (sa. mahayanasraddhotpada-sastra).
Dr. Le Manh Thich from the Vietnam Buddhist Shanga (VBS) was conferred on the third record for having composed 30 valuable Buddhism-related works.
The final record was dedicated to Revered Monk Thich Minh Canh, chief author of the Hue Quang Buddhism Dictionary – the largest-ever professional dictionary published in Vietnam.
Providing users with around 23,000 entries and 3,000 images, the record-holding dictionary has been launched with seven volumes, with the eight set to debut in the near future.
The recognition ceremony was organized Monday at the Ho Chi Minh City-based Thich Quang Duc Monastery on the occasion of the VBS' annual session.