Thousands visit newly built Dong Pagoda
VNS, Jan 31, 2007
Hanoi, Vietnam -- Thousands of Buddhist worshippers and visitors from all over the country came to Yen Tu mountain yesterday to attend the opening ceremony of the rebuilt Dong Pagoda.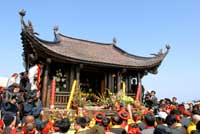 << The new Dong Pagoda, cast in pure bronze, opened to pilgrims yesterday in Yen Tu mountain. — VNA/VNS Photo Nguyen Dan
"The new Dong Pagoda has been constructed under harsh weather conditions for more than one year. This is the first pagoda cast in pure bronze, which strongly represent the spiritual culture of Vietnamese people," said Venerable Thich Thanh Quyet, deputy head of the managing board of the Quang Ninh Provincial Buddhists' Association.
Covering an area of 20sq.m on the top of Yen Tu mountain, the new pagoda has been recast using 70 tonnes of pure bronze by artisans from Y Yen Village in northern Nam Dinh Province. The old one was made from 1.3 tonnes of bronze and covered an area of nearly 3sq.m.
The pagoda was constructed from 3,500 parts, which were carried to the peak and assembled there. The project cost VND21.2 billion (US$1.325 million), which came from donations.
Dong Pagoda is the highest among the dozens of pagodas, shrines and towers in Yen Tu in Uong Bi town in northern Quang Ninh Province, about 120km from Ha Noi. It stands at a height of 1,068m above sea level, the highest point in the entire Northeast region.
The pagoda is revered because it was where King Tran Nhan Tong (1258-1308) retired to practice a religious life after abdicating his throne in the capital following the defeat of Mongol invaders at the end of 13th century.
Thousands of Buddhist worshippers attend the annual Yen Tu festival, which begins on the 6th day of the first lunar month which falls on February 22 this year and lasts for three months.