Thousands attend spring prayer ceremony
Viet Nam News, Feb 28, 2007
Quang Ninh Province, Vietnam -- More than 12,000 people attended the opening prayer at the Yen Tu Spring Festival, which opened on Monday, in Quang Ninh Province.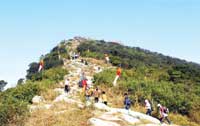 << Higher calling: Tourists and pilgrims try to reach Dong Pagoda on the top of Yen Tu Mountain to pray for peace and health. — VNA/VNS Photo Nguyen Dan
Representatives from the Viet Nam Buddhist Shanga, as well as Buddhist monks and nuns, led the ceremony at the foot of Yen Tu Mountain in Uong Bi Town, located 120km northeast of Ha Noi.
The crowd was asked to pray for peace and health for Vietnamese everywhere.
The festival is part of a new tourism strategy implemented by the province of Quang Ninh. The province has invested VND116 billion (US$7.25 million) to restore and renovate various buildings, including several important Buddhist temples like Hoa Yen, Lan, Van Tieu and Dong (bronze) pagoda.
The province hopes the festival and renovated pagodas will attract more tourists in the coming years.
Since January, 120,000 tourists have visited Yen Tu Mountain, accounting for an increase of 150 per cent when compared to the same period last year.
The Dong Pagoda is located 1,068m above sea level, the highest point on Yen Tu Mountain and in the northeast region. It is one among dozens of temples, shrines and towers in Uong Bi Town.
The pagoda is revered because it is where King Tran Nhan Tong retired in order to practise a religious life after abdicating his throne following the defeat of Mongol invaders at the end of the 13th century.
Thousands of Buddhist worshippers attend the annual Yen Tu Festival every year. It begins on the sixth day of the first lunar month and is celebrated for 90 days.