Thich Nhat Hanh leads prayer for reconciliation
France24, April 21, 2007
Hanoi, Vietnam -- A prominent Vietnamese Zen master living in exile on Friday took his message of post-war reconciliation to thousands of Buddhist faithful at a hillside pagoda near Hanoi.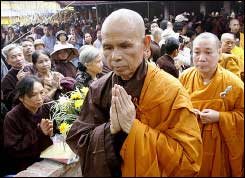 << Zen Buddhist monk leader Thich Nhat Hanh(C) prays during a three-day requiem for the souls of Vietnam War victims at a pagoda in Soc Son district, suburban Hanoi. The monk has held two others requiems in Southern and Central Vietnam.
Thich Nhat Hanh, an 81-year-old monk, led prayers for the millions of war dead from both sides of the conflict, during his second return visit since he was exiled four decades ago by the then US-backed Saigon regime.
"Our country and nation suffered so much in the years of fighting for independence and freedom, and you were the ones who suffered the most," Hanh said in a prayer addressing the souls of those who died.
"It is fortunate that the nightmare is over, the country is at peace and the nation has the chance to rebuild," he said as a misty rain fell on thousands of faithful who came to the Soc temple north of the capital.
Hanh's visit has been watched closely by the communist government, which keeps a tight check on all political and religious activity, and has also drawn fire from other Buddhist groups who charge the trip legitimises the regime.
Hanh, a life-long peace activist, was barred from Vietnam by both the former southern regime and the post-1975 communist government and has since built an international following from his monastery in France.
In his address Friday, the start of a three day chanting ceremony, he urged all Vietnamese to "love each other as people of the same blood" regardless of whether they hail from the north or south.
"From now on," the monk added, "we will try to build a real democratic society to solve all disagreements in a peaceful and democratic way, not to engage in violence and fighting between people of the same nation."
Hanh first returned to Vietnam two years ago on a trip criticised by the banned Unified Buddhist Church of Vietnam, whose leaders are under house arrest and who charge that Hanoi is using Hanh's visits for propaganda purposes.
Hanh has invited Vietnam's president to attend his prayer meetings, including previous mass events in Ho Chi Minh City and Hue.
No government leaders came, but this week Nguyen Huu Oanh, deputy head of the government's Committee for Religious Affairs, praised Hanh in comments published by the state-run Vietnam News Agency.
At the Soc pagoda, followers said they appreciated Hanh's unifying message.
"It's good to pray for the souls of the war dead, no matter where they came from -- north or south, communist or not," said 63-year-old Nguyen Thanh Vien, a retired state employee.
Nguyen Thi Van, a 50-year-old housewife, said her brother died in 1975 in a battle in the southern province of Tay Ninh.
"After today," she said, "I hope that the soul of my brother, and of my other sisters and brothers who died young, will really rest in peace."