Thich Nhat Hanh wraps up trip to Vietnam
VNA, May 10, 2007
Ho Chi Minh City, VietNam -- World-renowned Zen Master Thich Nhat Hanh and his French-based entourage wrapped up their second visit to Vietnam and left for Hong Kong, on May 9.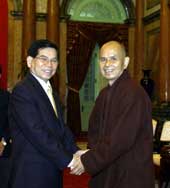 << President Nguyen Minh Triet shakes hands with Zen Master Thich Nhat Hanh. — VNA/VNS Photo Nguyen Khang
During their tour that began on February 20, Zen Master Hanh and 150 accompanying Buddhist monks, nuns and followers of different nationalities coordinated with the Vietnam Buddhist Sangha to organise religious activities in all three regions of the country.
Three chanting ceremonies in Ho Chi Minh City, central Hue city and Ha Noi and dharma talks saw the broad participation of both local and foreign Buddhists.
At meetings with the Government Committee for Religious Affairs, the Vietnam Buddhist Sangha Central Committee and the Committee for Overseas Vietnamese, Zen Master Hanh said that the delegation was provided with very favourable treatment by all that welcomed them.
State President Nguyen Minh Triet and legendary General Vo Nguyen Giap, also received the delegation.
Speaking of his return trip, Zen Master Thich Nhat Hanh told the Vietnam News Agency that: "The visit was a success thanks to the sincere efforts of all Buddhists to continue their studies."
Interviewed by Radio RFI, Minh Man, a Buddhist follower and a member of the delegation, said the visit was successful with the fulfillment of its working plan, particularly the organisation of the three chanting ceremonies.
For the Government's Committee for Religious Affairs, the visit proved to be a milestone in the organisation of large-scale religious activities.
"Events organised during the trip showed the bonds between co-religionists as well as between Vietnamese at home and abroad," said committee head, Nguyen The Doanh.
"The visit was an opportunity for our local Buddhists to share with the delegation their experiences and our accomplishments that sent a strong message that Vietnam is a country that opens its arms to welcome friends from the world over," he added.