Lotus exhibition commemorates Buddha's birthday
VietNamNet Bridge, June 5, 2007
Hanoi, Vietnam -- An exhibition titled Early Summer Lotus by a group of young painters is being held at the Viet Art Centre, 42 Yet Kieu, Hanoi, on the occasion of Buddha's 2551st birthday.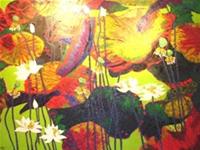 << Dang Phuong Viet's Lotuses
The group said they called themselves Mac Huong (scent of ink) because of their 2 common hobbies: painting and Buddhism. And group members each have their everyday and religious names.
Painter Nguyen Linh (or Quang Nghiem) recalled: "We got together voluntarily after coincidentally meeting each other at Perfume Pagoda."
Explaining their passion for Buddhism, all group members said they were motivated by a hope to do good. 26-year-old Le Tien Cong (or Quang Vien), the youngest painter in the group, said: "Studying Buddhism helps one to look at life with hopeful eyes and train one's characters."
Each group member has a different style of painting. Thus, some paintings are all about pagodas and other Buddhist images, while others capture the beauty of flowers. As for scenery paintings at the exhibition, they represent all sorts of styles from realism to expressionism.
Diverse sources of materials such as silk, lacquer, and oil-paint were used. Speaking at the opening ceremony, the Venerable Thich Minh Hien said: "In the eyes of bonzes, all of these works were created by the heart."
To Nguyen Thi Nhan, another female member and currently in charge of textbook pictures at Hanoi University of Health, sitting in mediation and painting are sometimes one.
Her contribution to the exhibition is a series of pictures of mandalas, those ritualistic geometric designs symbolic of the universe, used in Hinduism and Buddhism as an aid to meditation. "Meditating isn't necessarily sitting still with your legs folded."
"When you paint with a high level of concentration, you can also be said to be meditating. I mediate when I draw mandalas and this makes me feel that my shapes and colors look sure and firm," said Nhan.
But perhaps the most colorful and eye-catching part of the exhibition is five-color lotus paintings by Dang Phuong Viet. Lotus ponds through Viet's eyes are full of hope and happiness. Even rotten lotuses look cheerful.
This is one of the few public exhibitions of Dang Viet Phuong, who fears his works may be counterfeited. "But my heart can never be counterfeited," said he.
Organized by Buddhism Culture magazine, the exhibition will last until June 8.