Photo competition captures Buddhist culture
VNA, December 3, 2007
Ho Chi Minh City, Vietnam -- Nearly100 black-and-white and colour photos featuring Buddhism, people and scenes of daily life are on display at HCM City's Vinh Nghiem Pagoda on Nam Ky Khoi Nghia street.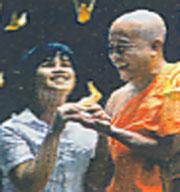 << First-prize photo Chap Canh uoc mo (Making Your Dream Come True) by Ta Van Manh.
The photos were selected from a competition called Buddhism and Life, launched early this year by the Viet Nam Buddhist Sangha Congregation's Giac Ngo newspaper and its partner, the publishing company Vietbooks.
More than 670 photos shot by 172 amateur and professional photographers in Viet Nam and overseas were sent to the event.
The works depict different themes related to Buddhism and its spiritual values, including the beauty of the lotus flower, a symbol of Buddhism.
"Our competition was held to encourage people to work together for a better world," said the Most Venerable Thich Tri Quang, editor-in-chief of Giac Ngo, a member of the judging panel.
Quang added that all of the competition's participants were "winners because their works are in praise of life and people. "The first prize of VND 10 million (US$620) was presented to Ta Van Manh in HCM City for his colour photo Chap Canh Uoc Ma (Making Your Dream Come True).
The photo features a smiling blind girl who is being handed a paper bird from an elderly monk.
Two second prizes of VND6 million each were awarded to Hue resident Truong Vung for Mung Phat Dan (Happy Buddhism Birthday) and DA Lat resident Bach Ngoc Anh for Nghe Phap (Listening Prayers).
While Vung's work featured Buddhist activities, Anh's work shows two foreigners dressed in traditional Buddhist clothing wearing headphones and listening to prayers.
Three third prizes and 10 consolation prizes, worth a total of VND 19 million, were also awarded.
Some of the photos, such as Sau Gio Hoc (After School) Vuon Xuan (Spring Garden), and Hoa Sen (Lotus), portrayed beautiful moments of people and children at play.
The exhibit at the pagoda runs until December 31.