Meditative photos cross cultures
VNA, Dec 12, 2007
Hanoi, Vietnam -- An unique exhibition featuring landscapes, Buddhism and the people of China and Japan is now on show at the Viet Art Centre, at 42 Yet Kieu Street, Ha Noi.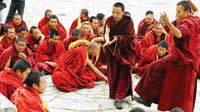 << Saffron revolution: Monks in Tibet. — Photos courtesy Venerable Thich Minh Hien.
The exhibition, titled Tay-Dong: Tuyet va Hoa (West-East: Snow and Flowers), consists of 108 colour photos by Venerable Thich Minh Hien, deputy head of the Culture Department of Viet Nam Buddhism Sangha.
"I chose 108 photos from around 3,500 negatives I took during two trips to Tibet and other places in China, and two trips to Japan, between 2004 and 2006," said Venerable Thich Minh Hien, who is also the head monk at Huong Tich Pagoda, a famous, holy pagoda on Huong Son Mountains, in the northern province of Ha Tay.
The photographs record the lives within and scenery of the locations, with a focus on the pagodas and the religious atmosphere that surrounds them.
Hidden within the photographs is the same belief of the two schools of Buddhism: the Eastern and Western schools, which share meditation methods, and seem separated only geographically.
"The photos bear strong Buddhism belief, as the photographer has lead a religious life for 25 years," noted Vu Huyen, the deputy permanent chairman of the Viet Nam Photographers' Association and chairman of the association's art council. "The beautiful scenery itself is attractive to the audience, let alone how it records the silent moments of people and nature."
However, the photographs have mostly reported only what the photographer has witnessed, and the collection might bear a much deeper meaning if it had focused more on portraits of local people, Huyen said.
Venerable Thich Minh Hien has organised four solo exhibitions since 1997 in Ha Noi and HCM City.
The Tay-Dong: Tuyet va Hoa exhibition runs until this Sunday, before moving on to Hue and HCM City next year.