A Chinese-built pagoda in the Mekong Delta
by Diem Thu, Thanh Nien News, Dec 28, 2007
Can Tho, Vietnam -- A blend of Khmer, Chinese and Vietnamese culture has made the southern city of Can Tho a distinguished tourist destination.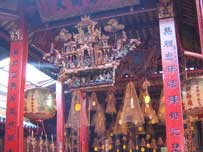 << Built by Chinese emigrants from Guangdong, the Ong Pagoda in Can Tho City is quite different from the most Vietnamese-style temples
An example of the different cultural influences is the Ong Pagoda, or Quang Trieu Hoi Quan in Hai Ba Trung Street, Tan An Ward, which is a popular with visitors because of its original Chinese architecture.
The 534-square-meter pagoda was designed quite differently from its Vietnamese counterparts, which are always surrounded by green trees or lawns.
With all the decorations and materials used to build the pagoda imported from Guangdong, it was made between 1894 and 1896 by Chinese emigrants and has retained the solemnity and tranquility of a spiritual site, despite being in the center of a crowded urban area near Ninh Kieu Wharf.
The pagoda is shaped in Hanji's character "Guo," which means nation or state, with all the buildings arranged around a central square.
The interior is full of natural light because of an adjustable mobile dome.
Built according to the rule of Yin and Yang, the roof which is still in its original condition is made with alternate tiles facing up and down.
Along the edges of the roof are different colorful porcelain statues.
Inside Ong Pagoda, there are wood and plaster relief's engraved with gold on the pillars of the balconies which also display some stunningly intricate sculptures.
Among the temple's statues, the most important is at the front of the pagoda, where the Buddha deity representing humanity, duty, civility, intellect and prestige is worshipped.
The pagoda deifies several Buddhist gods including the God of the soil Bodhisattva Kwan Yin.
Though it is over 100 years old, the pagoda has never been renovated.
According to the pagoda's management board it is repainted yearly and in 1995, the foundation was raised to preserve it in its original condition.
Several times a year, Ong Pagoda attracts Buddhists and visitors to the Chinese traditional festivals, which originated with the Guangdong emigrants who built it.
A member of Ong Pagoda's Chinese Buddhist Association Duong Gia Dien says, "We hold the Lantern Bidding Festival every 10 years. The winner of the event escorts the lantern home and good luck will knock at his family's door."
The festival also includes the Unicorn dance and Dragon dance.
There are also many monthly full moon celebrations and festivals.
Dien says that every month the pagoda has about 1,000 visitors who are interested in the Chinese style of temple architecture.