Girl feels déjà vu in new Buddhist flick
VietNamNet Bridge, Jan 3, 2007
Ho Chi Minh City, Vietnam -- A new feature film which draws liberally from the teachings of the Buddha moved nearly 500 viewers to tears at its premiere in HCM City last weekend.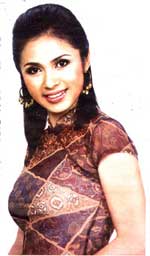 << A Passage to India: Actress Viet Trinh studied Buddhism for her role in Duyen Tran Thoat Tuc (Leave Love of Dust).
Duyen Tran Thoat Tuc (Leave Love of Dust), made at a cost of US$250,000 by Sena, a private studio based in the city, with financial support from Buddhists at home and abroad, narrates the life and love of Le Quyen, a young girl who discovers about a previous life of hers during a visit to India.
An Indian monk tells her she was a princess who had been ill-fated in life and love.
Through Quyen's story, director Le Cung Bac focuses on Buddhism's central tenets like compassion and detachment from material life, exhorting people to strive for a better world.
"Buddhism is popular not only in Vietnam but around the world," Bac said at the premiere held at Galaxy Cinema.
Bac shot in India, the birth-place of Buddhism, to provide authentic locales for Duyen Tran Thoat Tuc.
"We spent days travelling around India, capturing beautiful images about the culture and lifestyles there," Viet Trinh, who plays Quyen, said.
The 37-year-old former movie star from the 1990s turned to Buddhism in her real life for solace after being hurt by several scandals that surrounded her. She became a successful businesswoman and is involved in many charities now.
Trinh and her younger colleagues like pop star Nguyen Phi Hung and theatre actors Viet Huong and Cat Phuong pored over various books, documents, and films on Buddhism to prepare for the film.
"Because of our deep respect for the religion, we tried to remain calm and did not eat meat during the filming," Trinh, who undertook a long tour of India last year to learn about Buddhism, said.
Her role in Duyen Tran Thoat Tuc was the biggest achievement of her life, she said. "Besides its historical and religious aspects, the film is also about my beliefs in life."
Young actor Truong Thinh, who plays Quyen's older brother King Vo Vuong, said: "We were helped by our new Indian friends and also learnt from their simple lives."
The film is slated for release on Vu Lan, a Buddhist holiday which falls annually on the 15th day of 7th lunar month, that is around the 20th of August this year.