Buddhist funeral for a communist party veteran who became a dissident
AsiaNews/Agencies, Feb 16, 2008
Hong Minh Chinh fought against French colonialism and against the dogmatism of the communist party. He died as a Buddhist of the Unified Church, which is not recognised by the regime.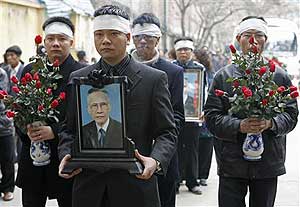 Hanoi, Vietnam -- The funeral was held this morning for Hong Minh Chinh, a veteran member of the Vietnamese communist party who later became one of the leading pro-democracy activists. The burial was held according to the Buddhist ritual, because at the end of his life Hong had converted to the Unified Buddhist Church, which rejects state control.
The funeral was attended by dozens of pro-democracy activists, some of them with years of prison behind them, all wearing white headbands as a sign of mourning. Also among the more than 500 participants were policemen who filmed the attendees and kept watch over the gathering.
In the eulogy, Tran Lam, a lawyer who has often defended pro-democracy activists, recalled that Hong Minh Chinh "came to communism with the brave, undaunted heart of a patriotic young man . . . and abandoned communism with the heart of a patriotic intellectual".
Hong died at the age of 85 last February 7, the first day of the lunar new year, after a long illness. As a young man he had been imprisoned for his efforts against French colonialism. After the revolution in North Vietnam, he became a member of the communist party, being educated in the Soviet Union and then appointed the director of the Institute of Marxist-Leninist Philosophy in Hanoi, where he served until 1967.
During this period, he opposed the military invasion of South Vietnam and wrote a document against the dogmatism of the communist party. For this reason, he was imprisoned for 11 years (1967-1972 and 1981-1987), and spent nine more years under house arrest.
In 1993, he asked the communist party in an open letter to guarantee democracy and a government that would respect the rule of law. In 2005, he received permission to go to the United States to be treated for cancer, but when he returned he was bitterly attacked for speaking about Vietnam to Congress.
On April 8, 2006, he became one of the first signatories of the "8406", a pro-democracy manifesto by activists who organise themselves using the internet.
Some of these activists, who attended the funeral, assert that at least six dissidents were unable to come to the ceremony because they were stopped by the police.
The monk Thich Khong Tanh, who presided over the ritual, said that the ashes of Hong Minh Chinh would be scattered "over the rivers, the mountains, and the ocean".