Ancient pagoda exemplifies southern architecture
VietNamNet Bridge, April 11, 2008
Tien Giang Province, Vietnam -- Tourists visiting the city of My Tho in Tien Giang Province could not miss Vinh Trang Pagoda, an ancient southern architectural gem.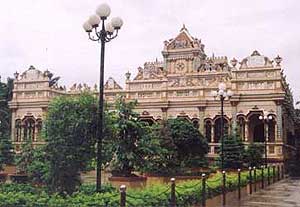 << Vinh Trang Pagoda in the city of My Tho in Tien Giang Province. (Photo: vietphongmekong.com.vn)
The pagoda is located in My Phong Commune, which is three kilometers from the city center. It was built in 1849 by a Buddhist monk named Hue Dang using funds collected from practitioners.
The religious site was seriously damaged by French colonists in 1861 and a severe storm in 1904. On both occasions, practitioners restored the pagoda to its original splendor.
There are three entrances to the pagoda. The central iron gate is always closed, while the two side gates, which are designed in the co lau style are open. The side gates are adorned with colorful porcelain mosaics featuring Buddhist folktales and natural scenery.
The facade of the pagoda contains both Asian and European architecture including elements from the Renaissance period, Romanesque style, French decorative flowers and Japanese enameled tile. From afar, the pagoda resembles the five-tower Angkor Temple.
According to locals, a monk named Minh Dan and an architect named Huynh Tri Phu traveled to Cambodia prior to building the pagoda for inspiration and eventually combined Khmer architecture with European styles for the pagoda.
The pagoda houses 60 precious statues made from copper, wood and terracotta. The most valuable collection is the 18 arhats made from jackfruit tree wood in 1907. Additionally, the pagoda has a bell that was cast in 1854.
The pagoda is surrounded by gardens of ornamental trees, ancient trees and bonsai, creating a peaceful atmosphere.
The pagoda provided shelter for Vietnamese patriots and is recognized as a national historical and cultural relic by the government.