Hoi Khanh Pagoda, a spiritual gem in South Vietnam
by Phuong Anh, Thanh Nien News, April 24, 2008
Binh Duong Province, Vietnam -- Located in Thu Dau Mot Town in Binh Duong Province, 25 kilometers south of Ho Chi Minh City, Hoi Khanh Pagoda features distinctive architecture and splendid replicas of four Buddhist holy sites.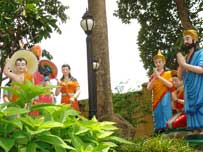 << A depiction of the birth of the Buddha displayed inside Hoi Khanh Pagoda
Originally built in 1741, French troops had razed the complex in 1860. A monk named Chanh Dac mobilized efforts to reconstruct the structure in 1868 near the ruins of the old one.
The overarching design of the pagoda resembles a typical nha ruong – houses in the former Hue imperial capital in the central region with carved wooden beams and pillars – rather than traditional southern architecture.
However, the style of each building on its grounds and the many stupas in the big courtyard varies wildly.
North of the main entrance stands a multi-level tower, which houses the remains of late head monks and the sutras. The tower follows the traditional pattern of Chinese-style pagodas in the south.
It is hexagonal-shaped with seven tiers, each displaying a curved roof forming the image of a blooming lotus.
A one-ton bell is located in the tower's center.
The pagoda's sanctuary presents a surprise for visitors as its exterior resembles a Catholic church but interior decorations specifically feature southern characteristics, boasting etchings of parallel sentences and letters from the sutras.
Another attraction is the reproduction of four Buddhist holy sites placed on a high hill inside the compound's yard.
The depictions include Lumbini, the Buddha's birthplace, Bodh Gaya, the place of his Enlightenment, Sarnath, where he delivered his first teaching and Kusinara where he died.
Guests can now visit the facsimile of these sacred sites without having to go to India.
Hoi Khanh at one time served as the temporary residence of Nguyen Sinh Sac, the father of President Ho Chi Minh, who was born Nguyen Sinh Cung.
Sac had stayed in the pagoda during the period of 1923–1928, working as a teacher and botanist to avoid interaction with the French.
The pagoda nowadays retains his original wooden bed.
A model of the pagoda's unique blend of architecture was displayed in Marseille, France in 1920.
The then Ministry of Culture and Information in 1993 had honored the site as one of the national historical-cultural heritages.