Buddhist online magazine debuts amid upcoming Vesak in Hanoi
VietNamNet Bridge, May 4, 2008
Hanoi, Vietnam -- A press conference to release information about the organization of the 2008 United Nations Day of Vesak (UNDV) in Ha Noi was held on May 3, 2008 at the office of Giac Ngo, a Buddhist magazine at 85 Nguyen Dinh Chieu, District 3. The UNDV is scheduled to begin in mid-May.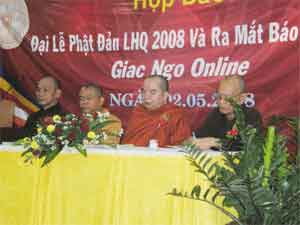 According to Ven. Dr. Thich Nhat Tu, Secretary of the International Organization Committee (IOC), Vesak is the day celebrated on the full moon of the fourth Lunar month, during which Buddhists honor the Buddha's birthday and the day of his enlightenment and death. So far, this holy day has been considered an important event to all Buddhists around the world.
The fact that Viet Nam is the host for Vesak 2008, said Tu, demonstrates the government's guidelines and policies on respecting people's freedom in religious belief. This is also a chance for the people from all countries over the world to come to Viet Nam to learn about the country and Vietnamese people.
Tu pointed out that the organization of the 2008 UNDV in the country asserts that Buddhism in a religion that has been closely linked with the destiny of the country. It has traveled with the people through the nation's ups and downs during the length of its history. As for many Vietnamese people, Buddhism is not merely a religion, but also an inseparable part of the national culture.
The organization of the 2008 UNDV is also an opportunity for the Vietnamese Buddhist Shangha to take part in exchanges with international Buddhist Shanghas and communities to create an understanding, sympathy and cooperation between them, through which Viet Nam can introduce all of its Buddhist schools to others, said Tu.
According to Tu, topics to be discussed during the event will focus on issues of the United Nations and Viet Nam's top interest including problems the world is facing today and how to apply the Buddhist principles to solve them as well as the preservation of Buddhist cultural heritages in the country and throughout the world.
More than 1,400 international guests and Buddhist delegates and over 1,000 local representatives from cities and provinces are expected to take part in the event. Each locality in the country will organize formal traditional and cultural activities like organizing musical shows and exhibitions, releasing trapped animals, lightening strings of lanterns… to welcome such an important event.
On the same day, the Editorial staff of Giac Ngo magazine, an official organ of the HCMC Buddhist Shanga officially made debut its online magazine. The operation of the online is aimed at providing lessons about the Buddha's life and his teachings to readers as well as information about activities of the Vietnamese Buddhist Shanga in a timely manner.
For further information, please visit http://www.giacngo.vn