Days of peace
Thanh Nien News, May 7, 2008
Hanoi, Vietnam -- The United Nation Days of Vesak 2008, an annual event celebrating world peace and the life and death of the Buddha, will take place in Hanoi next week.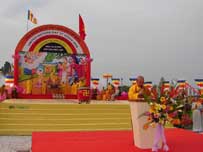 << The view of the preliminary Vesak celebration in Binh Duong Province
According to Dr. Venerable Thich Nhat Tu, general secretary of the event's International Organization Committee, Vesak is an opportunity to promulgate a message of peace to all parts of the world as well as introduce the land and people of Vietnam to the international community.
This year Vesak will feature seminars, fine art exhibitions, Vietnamese folk art performances and presentations on the history of Buddhism in Vietnam.
At least 300 lectures will take place, said Tu, two of which are called "Buddhism with the issues of justice and democracy" and "The role of Buddhism in handling conflicts and preventing wars."
Group discussions will focus on seven topics: the role of Buddhism in handling conflicts and preventing wars, the contributions of Buddhism to social justice, linking Buddhism and development, environmental care: Buddhist solutions to climatic changes, family issues and Buddhist solutions, the forum "Buddhist education: inheritance and development," and Buddhism in the digital era.
The event will also host two courses on Buddhism practice: one for Vietnamese Buddhist families and another for foreigners.
Renowned Zen master Nhat Hanh from France, one of the keynote speakers at the seminars, will be in charge of the course for foreigners.
Some 10,000 candles will be arranged in a Buddhist swastika and lit at the National Conference Center in Hanoi.
Participants will light the candles and wish for peace together.
Wishing-for-peace ceremonies will be also held at Yen Tu Mountain (Quang Ninh Province) and Bai Dinh Buddhism Cultural Park (Ninh Binh Province).
Additionally, a seven-movement symphony titled Khai giac (Enlightenment), composed by Vietnamese-French maestro Nguyen Thien Dao, will be performed at the closing ceremony of the Festival.
The symphony is a combination of classical music and traditional Vietnamese genres such as tuong (classical opera), cheo (northern traditional drama), tai tu Nam Bo (southern folk music) and folk songs.
More than 600 Buddhistic delegations from over 70 countries and territories will participate in the UN Vesak 2008, said Tu.
The event will take place at the National Conference Center and the Viet Xo Cultural Palace in Hanoi from May 13-17.
State President Nguyen Minh Triet will give an opening speech on May 14 while Prime Minister Nguyen Tan Dung will deliver a closing speech on May 17.