Vegetarians rock the party for Buddhist Vesak
VNA, May 10, 2008
Hanoi, Vietnam -- More than 1,000 people are expected to attend a vegetarian feast, held this evening at the Ha Noi's Van Mieu (Temple of Literature) in advance celebration of the United Nations Buddhist Festival of Vesak 2008, which begins on Tuesday and will be hosted by Viet Nam for the first time.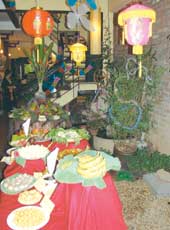 << Friendlier feasting? The vegetarian feast will be decorated by two artists at the Temple of Literature. — VNS Photo
The vegetarian ensemble will be prepared by 40 chefs from Ha Noi's Adida vegetarian restaurant. The team of chefs finalised their menu one month ago, the result of a long process of experimentation during which every attention was given to realising quality preparation and seamless service.
"At first, we envisioned a big party at which we would serve a record 10,000 people. Ultimately, however, we decided on a comparatively intimate vegetarian dinner, at which 1,000 guests would learn about Vietnamese culture and Buddhism," said Most Venerable Thich Giac Toan.
All of the 70-odd dishes served at the event will be prepared on hand using only fresh vegetarian ingredients, including vegetables, roots, fruits and tofu. The meal will unfold over three course-starters, main courses and desserts-with dozens of dishes presented for each course.
"Each dish will be available in seven versions. The soups, for example, include vegetable soup, pumpkin soup, tomato soup and mushroom soup. There will be seven kinds of nem (spring rolls), including a fruit nem and a special nem rolled with maize, fresh mushrooms and tofu. I'm sure all the dishes will be very special and excellent," said Bui Thanh Huyen, the owner of Adida restaurant.
The party's setting was designed by two artists who created a one-of-a-kind "culinary space" for the experience. "We were so lucky to have been able to hold the party at the Temple of Literature. It provides the perfect backdrop for our event," Huyen said.
The party will be free for everyone on the guest list, both Buddhists and others who want to know more about Buddhism in Viet Nam.
An auction will be held at the party for unique Buddhist artefacts. These rare items were sent to the organising board for the auction. A sapphire Buddha from HCM City will have a starting price of US$5,000. Sent to Ha Noi from the central city of Da Nang comes the largest work of calligraphy in Viet Nam, made in 2007. The calligraphy is valued at VND250 million.
The event will be co-hosted by the Viet Nam Buddhist Sangha and the Viet Nam Chamber of Commerce and Industry.