Buddhist Vesak Day forum spreads message of peace
VNS, May 16, 2008
Hanoi, Vietnam -- Vietnamese Buddhists will strive to put the wheels of peace in motion, a meeting during the second working day of the United Nations Day of Vesak 2008 heard yesterday.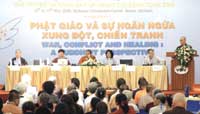 << A scene from the conference titled Buddhism and Conflicts and Wars Prevention in the framework of the UN Day of Vesak 2008. — VNA File Photo
Buddhist monks and nuns, and international and domestic delegates attended the event at the My Dinh National Conference Centre in the capital.
The talks focused on seven themes: "War, Conflict and Healing: A Buddhist Perspective"; "Buddhist Contribution to Social Justice"; "Engaged Buddhism and Development"; "Care for Our Environment: Buddhist Response to Climate Change"; "Family Problems and the Buddhist Response"; "Symposium on Buddhist Education: Continuity and Progress"; and "Symposium on Buddhism in the Digital Age."
Opening talks on the first theme, "War, Conflict and Healing: A Buddhist Perspective," Venerable Dr. Thich Tam Duc, a lecturer at the Viet Nam Buddhism Academy said every conflict would lead to misery. Nuclear attacks or other methods of warfare sparked off with bad intent would cause misery for the whole of mankind and destroy the planet, he said.
"As Vietnamese Buddhists, we do our best to put the wheel of peace in motion with our own solidarity and fulfilment of our duty to project and rebuild our Fatherland," he said.
Most Venerable Thich Giac Toan, Vice President of the Viet Nam Buddhist Sangha Executive Council said the world was at risk of wars, crime, hunger and poverty, as well as exhaustion of natural resources, pollution, moral degradation, and discrimination of races and religions. It was therefore necessary for Buddhists to use their mercy and intelligence in building happiness and peace for the human race.
Prof Jinabbodhi Bhikkhu from Bangladesh emphasised Buddhism's contributions to social justice. Social equity should lead to enlightenment, while enlightenment and happiness were contrary to misery, he said, adding that Buddhist theories on social justice met the demands of modern society.
The issue of new technology also took centrestage, as the meeting spotlighted "Symposium on Buddhism in the Digital Age." Venerable Thich Chan Quang said if the Buddhist followers ignored the digital world, they might lose a good tool to study and effectively popularise Buddhist ideas.
Turning to the theme "Engaged Buddhism and Development," Venerable Thich Bao Nghiem from the Viet Nam Buddhist Sangha said the Sangha had striven to expand international exchanges between Buddhist organisations and other different religions in many other countries. These were done in the spirit of peace, friendship and solidarity, he said.
International activities helped exchange information and contribute to goodwill and mutual understanding among peace-lovers. This benefited the country and the Buddhist community, he said.
Venerable Thich Gia Quang, Vice Secretary General of the Viet Nam Buddhist Sangha Executive Council, highlighted Buddhism's role in tackling climate problems. He said environmental pollution threatened the development and lives of hundreds of millions of people in the world and had become an urgent global problem.
The Buddhist community aimed to struggle for the benefit of living things and believed the human race could only have a clean living environment when everyone was aware of how to protect and preserve it, he said.