United Nations Vesak Conference 2008 Concludes in Hanoi with Keynote Speeches and Candlelight Procession
The Buddhist Channel, May 17, 2008
Hanoi, Vietnam -- The third and final day of the Fifth International Buddhist Conference on United Nations Day of Vesak 2008 concluded in Hanoi today.
The day began with the delegates filing into the hall and with members of the Theravadan monastic communities from around the world offering traditional chants for peace for all beings, in particular victims of the recent natural disasters in Myamar and China.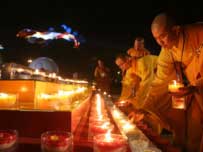 << A candle-lighting ceremony to pray for world peace was held after the UN Day of Vesak ended in Hanoi Friday
After opening addresses by Venerable Monks, Louis Lancaster from University of California presented a keynote address to the delegates on the topic of "Buddhism and New Technologies." He offered the observation that new technologies will be the primary form of communication about Buddhism in the future and cited the fact that Buddhanet website currently receives 800,000 hits per day. Many people access their information on Buddhism on-line, and many of the most famous Buddhists texts are now available online or will be in the near future.
He noticed how many of the participants at this conference are communicating with devices, including cell phones, cameras, lap tops, email, etc. "The real future is the camera that will allow us to communicate with each other using real time pictures of what we are experiencing," he reported. He also referred to technology regarding brain imaging which gives us a glimpse into our brains and commended the National Institutes of Health for recent initiatives to fund research into Mindfulness in Behavioral Medicine as well as studying advanced meditators using brain imaging to be able to more fully understand "what happens to people when they meditate," in order to understand the spiritual event of meditation and also the biological event.
Lastly, he shared his view that the Buddhist community is in an excellent position to advance the world of virtual reality in an ethical and moral way. He refered to the Buddha's teaching that, "We must understand how the brain works before we can approach enlightenment. He noted that if we don't know how we perceive the world, we cannot make spiritual progress. When we do understand how we perceive the world, then we know that what we perceive is in no way a representation of the external world and never has been. Our brains have been creating virtual reality from the day we were born. We [always] have to deal with virtual reality based on limited information we have about the world. Our senses do not ever tell us to not represent the external world but what we perceive is important. You must know the senses and how they work. You must deal with that."
He concluded by urging Buddhists to not fear the new technology. "It is true, we are part of something that is endless. Our senses only give us an experience but not a representation of the external world....Encourage people to make right use, right action and right livelihood with the new technologies. These technologies can be terribly abused and destructive. But the potential is also great...for dealing with life and all its complexities. Welcome it. Use it. Make it yours. Develop it to the best of your ability in order to contribute to the happiness and welfare of sentient beings."
Dharma teacher Larry Ward, Director of the Lotus Institute, offered the keynote address in the afternoon on the topic of the Buddha Within. He shared about the many dharma doors open to practitioners through which to find salvation not only for one's self, but for all beings: human, animal, vegetable and mineral. He referred to the many opportunities he and the Plum Village Sangha under the direction of peace maker and Zen master Thich Nhat Hanh have had to share the dharma in past years.
These include: retreats for activists that help them relieve burnout; retreats for police officers on the topic of, "What does it mean to be a Bodhisattva?;" retreats for families, couples and children; retreats for people of color and minorities in North America; retreats for psychotherapists in Los Angeles attended by 1,800 people; retreats for Palestinians and Israelis at Plum Village in France; retreats for business people regarding conducting business mindfully and without causing suffering in the world; retreats for war veterans; work in prisons which is conducted by over 500 people teaching meditation and sangha building in prisons; books and publications; and activities for youth including singing, yoga, art and meditation.
Mr. Ward reflected on the primary lesson learned in all of these settings. "The post-modern soul is seeking an experience of transformation and healing, more than an explanation of transformation and healing. If an explanation comes along, that's great. But what really matters to people is when they find their own suffering transformed and healed." He continued, "We are in the midst of a new society. The society we would be happy living in is not here yet. But the seeds of a just, democratic and civilized society are here, and we are the ground." He asked the delegates, "Where is the Buddha?" and answered, "Look close. Close to where we are, close to our own heart, or we will not find him or her." He concluded with a beautiful poem he has recently written and urged the delegates gently to continue on in their practice to relieve the suffering of all beings, to not leave anyone behind and to wake up, wake up, wake up."
The Conference issued the Hanoi Declaration in the afternoon which affirmed the goal of supporting peace and justice throughout the world. The activities concluded in the evening with a candlelight procession attended by 5,000 people and supported by people around the world simultaneously lighting candles in support of the vigil and world peace.