Exhibition reveals links between Buddhism, Vietnamese culture
VNA, May 20, 2008
Ho Chi Minh City, Vietnam -- An exhibition of paintings and sculptures, including many by monks, which opened in HCM City on Sunday highlights the close bonds between Buddhism and Viet Nam's millennia-old culture.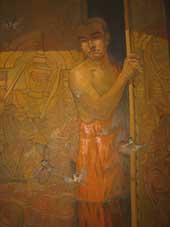 << Light and shadows: Trong Long Buoi Chieu (In the Embrace of the Afternoon), an oil on canvas work by Nguyen Van Phuong, shows a monk just before sunset.
There are around 170 works on display at the one-week exhibition titled Buddhist Fine Arts Go Along with the Nation's Development, which is divided into two sections.
The fist consists of 90 works highlighting Buddhism's role in modern society's workings and changes. For instance, Trinh Thanh Tung's painting is about monks' activities to help Agent Orange victims, while Tran Chau's Dream expresses the Buddha's desire for peace.
Almost all the works in this section are recent, except for one created before 1975 depicting the fight of students and Buddhists against the Sai Gon regime during the American war.
The works belong to 55 artists, including monks like Thich Quang Nhon and Thich Nhuan Thuong.
The second section shifts focus to centuries-old folk sculptures and paintings featuring great Buddhist monks, most of them living in famous pagodas and temples in the north.
Many of the original sculptures and paintings have been faithfully reproduced.
Painter Uyen Huy, chairman of the HCM City's Fine Arts Association, said, "Buddhism has been an integral part of Viet Nam's fine arts, because it appears almost everywhere in the daily life of the people and is widely known through the architecture, sculptures, and Buddha idols in pagodas."
Being part of activities to celebrate the United Nation's Day of Vesak in the city, the exhibition not only seeks to bring the world of Buddhist art to art-lovers, but also to showcase the image of the country and its profound culture to the outside world.
Superior Buddhist monk Thich Thien Bao, head of the city's Department of Buddhist Culture, said, "It's a good opportunity for Viet Nam's Buddhist community to send the Buddha's message of true peace and friendship to all nations."
The exhibition is organised by the department and the city's Fine Arts Association, and runs until Sunday at the HCM City's Fine Arts Museum, 97A Pho Duc Chinh Street, District 1.