Nun uses martial art to get closer to Buddha
VNS, June 8, 2008
Hanoi, Vietnam -- Defying initial prejudice, a nun studying at the National Buddhism Academy is teaching shaolin to her fellow bonzes. Hoai Nam reports.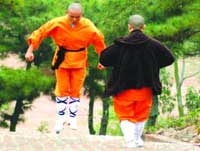 << Build up: Nun Thich Nu Khanh Thao teaches exercises to improve physical strength.
Those unfamiliar with the ethics of martial arts might think that a contact sport is not conducive to the life of a Buddhist nun. But 32-year-old nun Thich Nu Khanh Thao (Buddhist name) would disagree.
Thao teaches Shaolin to 80 students at the Viet Nam National Buddhism Academy, the top education centre for bonzes in the country. It is also the biggest in the nation, located on the top of a mountain in Ve Linh Commune, Soc Son District, 40km west of Ha Noi.
Currently 350 monks and nuns, mostly from northern provinces, are studying at the academy for a four-year course which will help them run pagodas and teach Buddhism. The course has only been available for the last five years.
Thao is also a second-year student at the school. For these last two years, she's also been teaching shaolin.
Perfect balance
Bonzes have a heavy timetable at the academy. Nuns have to learn and recite 348 Buddhist scriptures and monks have to learn 250. Both have classes in sociology and psychology and all pray to Buddha from dawn to dusk.
Along with all this mental work, the bonzes also need physical activities to stay in good health, says Venerable Thich Thanh An, head of the academy's administration office. Monks and nuns need to be healthy to spread the word of Buddha, and shaolin lessons are just one of many extra activities, including football, war-of-tug, tennis and shuttlecock, he says. "We have three culture and sports classes. Bonzes can either do calligraphy or martial arts."
Teen spirit
Thao was youngest of seven born to a poor farming family in Pho Trach Commune in suburban Phong Dien District, central Thua Thien-Hue Province. They moved to Central Highlands Dac Lac Province when Thao was seven.
The nun says she still vividly remembers the trips she and her family would take to the local pagoda on the first day of the month, according to the lunar calendar, and every full moon. "I was so impressed with the serenity of the religious ceremonies we attended, and the solemn appearance of the monks, that I decided to become a nun when I was 16," she says.
In 1992 Thao joined Phuoc Hue Pagoda in Da Lat City in the Central Highlands Lam Dong Province – 200km far from her home. That year she also started learning Shaolin.
"My parents were happy with my decision to devote myself to religion," she says. "The life of a farmer is hard and my family were happy that I wanted to help save poor people from misery and sorrow."
One way Thao found she could get closer to Buddha was through shaolin. The art involves an exercise similar to tai chi, called taijiquan, which the nun says is similar to meditation." Taijiquan is good for the students here because it concentrates on breathing, which helps people improve their mental strength," she says.
But not everyone was happy with her methods, Thao admits. "I was expelled by the master of the pagoda because I kept practising shaolin even after he told me he didn't want me to. He thought shaolin was just something men did. But after a long time, I finally managed to persuade him that it would help me in my religious life."
Although Thao's students are only allowed to use their hands to practise the martial art in the academy, outside the school Thao has mastered 18 weapons, including the machete, sword and spear. Her skills have earned her a white belt in shaolin, the top rank in her branch of the art.
Dawn till dusk
Thao's typical day starts at 4am, when she and her fellow students pray to Buddha. Later in the morning she takes her class out into the yard to practise taijiquan. The nun also teaches Shaolin to students in Vinh Xuan School in Dong Anh District, 40km from the Academy, for three hours every afternoon. At night, when the grounds are quiet, she spends two hours practising her breathing exercises.
Thao's shaolin classes are greatly appreciated by the bonzes at the academy, says fellow student, 31-year-old Nun Thich Lam Tuong. The nun runs the Noi Pagoda in Binh Luc District, Ha Nam Province, 60km south of Ha Noi. "I've been attending Thao's classes for the last year. Like the other people studying at the academy, all the learning can be very tiring. But Shaolin really gives us a boost." Learning the art helps bonzes feel stronger and gives them more energy to study, Tuong says. "It's a shame we don't have much time to train."
Even in the run-up to the exams, students are still squeezing in the time to practise shaolin. In these stressful times, shaolin is a key to help clear the mind, Thao says.