Peace in Vietnamese city
Thanh Nien news, June 26, 2008
Bat Buu Phat Dai, Vietnam -- Bat Buu Phat Dai in Binh Chanh District, 30 kilometers southwest of Ho Chi Minh City center, is a historical place of refuge for Buddhists.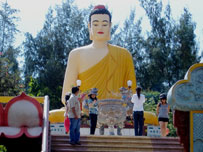 << Tourists visit the "Lonely Buddha" in Binh Chanh District
The towering statue of Sakya Muni – the Buddha and man who founded Buddhism – sits on an eight-side lotus in the grounds of Thanh Tam Pagoda.
Sakya Muni, whose birth name is Siddhartha Gautama, was a spiritual teacher from ancient India and a key figure in Buddhism.
There are many accounts of his life, discourses, and monastic rules which were said to have been summarized after his death and memorized by his followers.
Since wartime in southern Vietnam, the pagoda, where this statue of the Buddha is situated in Le Minh Xuan Commune, has been known all over the country as the house of the "Lonely Buddha."
The name was coined by locals to show their admiration for the main attraction of the pagoda, the statue of Sakya Muni, which has stood untouched through many bombings during the war while the pagoda was nearly destroyed.
The seven-meter statue of the meditating Buddha sits on a three-meter-tall octagonal lotus.
It weighs four tons, and was finished in 1957 by artist Nguyen Tranh Thu.
It originally sat in the renowned Xa Loi Pagoda in present-day HCMC's District 3 for four years before Buddhist follower Ngo Chi Binh moved it to the more spacious Thanh Tam Pagoda.
Eight altars below the statue as well as sections in the main body of the pagoda are reserved for worshipping other buddhas and bodhisattvas.
The pagoda has become a destination for people seeking contemplation.
The "Lonely Buddha" is a popular attraction for foreigners, especially during Vietnam's Lunar New Year (Tet) celebrations.
From HCMC's District 6 take Ba Hom Street which turns into Street No. 10 to the end and turn left.
The "Lonely Buddha" is two kilometers along on a five-hectare site.