Visiting Dai Tong Lam Pagoda
VietNamNet Bridge, July 1, 2008
Ho Chi Minh, Vietnam -- Along National Highway 51 on the way to the coastal city of Vung Tau, Dai Tong Lam Pagoda is located in Tan Thanh District in the coastal province of Ba Ria-Vung Tau, 70km east of HCM City.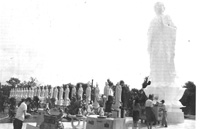 The nine grades of the mandarin system of bliss area displays 48 statues of Buddha Amitabha made of granite standing under the open sky.
The pagoda is better-known as Van Phat Quang as its 10,000 statues of Buddha are red-lacquered and inlaid with gold mounted on the pagoda's walls.
Dai Tong Lam Pagoda, which was built by superior Buddhist monk Thich Thien Hoa in 1964, is located on a quiet 54-hectare plot consisting of many pagodas, Zen monasteries, Buddhist temples, and a junior Buddhism college, and is considered the Buddhist center of Ba Ria-Vung Tau Province.
The pagoda has been recognized by the Vietnam Record Book for its four exceptional records, namely the biggest sanctum covering over 3,000 square meters, the biggest granite statue of Bodhisattva Metteyya weighing over 40 tons, the biggest number of statues of Buddha in a pagoda - with over 10,000 - and the Buddhism training center with most learners -1,250 monks and nuns.
The splendor of the current architecture model of Buddhism bearing the hallmark of the national culture is seen via the complex of Dai Tong Lam Pagoda. The new main temple, or sanctum, overlooking four directions shows a splendid place like the elysium. Above the curved tiles are dragons cleverly carved that make them look like hovering over nine layers of cloud.
Attractions for tourists also include the charming landscape along with a lotus pond and fresh air. The entrance leading to the main temple is shaded with two lines of big trees, while under the old fig tree lays a huge statue of Buddha Sakya Muni being deep in religious contemplation. Overlooking in the distance behind the trees sits the Metteyya temple.
On the left side of the pagoda is a place where 48 statues of Buddha Amitabha made of granite 3.3 meters in height, 3.5 tons in weight standing under the open sky. A concrete 14.5-meter-high statue is arranged in the middle. The entrance is paved with red tiles to reduce the heat of summer days.
Especially, in the complex of Dai Tong Lam Pagoda, Thien Hoa nun monastery has been known as a "rice pancake pagoda" for many years. The pagoda serves vegetarian food such as rice pancake or bank xeo, vermicelli and sour imitated- crab soup or bun rieu, vermicelli made of cassava, and noodles soup or pho from 6 a.m. to 6 p.m. everyday.
Last but not least, pilgrims can cast off their affliction and tiredness to mingle themselves with nature in a tranquilizing space if they have a chance to visit Dai Tong Lam Pagoda.