Dissident Patriarch of Vietnam Buddhist Group Dies
Reuters, July 6, 2008
HANOI, Vietnam -- The patriarch of a Vietnamese Buddhist group that has peacefully campaigned against successive governments and Communist Party controls on religion, died in his monastery at the age of 87 on Saturday, the organization said.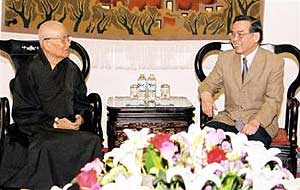 << Buddist monk Thich Huyen Quang (left) holds talks with Vietnamese Prime Minister Phan Van Khai in 2003
Thich Huyen Quang, Supreme Patriarch of the outlawed Unified Buddhist Church of Vietnam (UBCV), died at the Nguyen Thieu monastery in the south-central province of Binh Dinh, where he has spent years living under restrictions.
Since late May, Quang had been in intensive care for heart, lung and kidney problems in a hospital, and returned to the monastery on Saturday, the Paris-based advocacy group, International Buddhist Information Bureau, said in a statement.
UBCV deputy leader Thich Quang Do, who lives under restrictions in a monastery in Ho Chi Minh City, the former Saigon, was with Quang when he died, the group said.
A funeral ceremony will be held at the Nguyen Thieu monastery on Friday.
"For his uncompromising determination to stand firm, he paid a high price, spending over half his life in prison, internal exile or under house arrest under a succession of political regimes," the statement said.
The patriarch was born on September 19, 1920 in Binh Dinh with the secular name of Le Dinh Nhan.
During his life, he opposed French colonial rule, the U.S.-backed South Vietnam government of the 1960s and also the Communists, who came into power in the unified Vietnam in 1975 and brought all religions under state supervision.
Quang was arrested in Ho Chi Minh City in 1982 for protesting against the state's establishment of the Vietnam Buddhist Church and the effective banning of the UBCV.
According to the group, Buddhism has been unified in Vietnam since the Dinh dynasty in 986. It strongly opposes state supervision of religion.
It says that before Vietnam was partitioned by the 1954 Geneva Agreement, Buddhists from different schools in northern, central and southern schools became one organization in 1951.
Following his arrest in 1982, Quang was sent to the south-central province of Quang Ngai and Thich Quang Do was sent to his native village in the northern province of Thai Binh.
Quang became UBCV Patriarch in 1992, appointed in the testament of late UBCV Patriarch Thich Don Hau, former Superior monk of the Linh Mu Pagoda in the central city of Hue.
Spokesmen for the group say that despite "continuous harassment, surveillance and intimidation" Quang continued to appeal for the respect of human rights and political reforms.
He had called for the abolition of Article 4 of the Constitution (on the political monopoly of the Communist Party).