A Pagoda built from ceramic debris
VietNamNet Bridge, Jan 1, 2009
Trai Mat, Vietnam -- Taking the train to Trai Mat to visit Linh Phuoc Pagoda in the chilly cold of the central highlands city of Dalat is an exciting adventure for those who seek the sanctuary of a worshipping place and the unique architecture of Asian pagodas.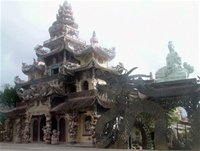 << Linh Phuoc Pagoda
Linh Phuoc Pagoda, also called Ve Chai Pagoda, was built from debris of glass, pottery bowls and porcelain between 1949 and 1952 in a remote residential area of Dalat City. The pagoda has been led by many Buddhist monks and was renovated by Monk Thich Tam Vi in 1990.
The front of the pagoda is lined with meticulous sculptured pillars in the shape of flying dragons which were made from glass debris. A 4.8-meter-tall statue of the Buddha Sakyamuni is a striking work of art which sits between 12 glaze works in relief which respectfully illustrate the legend of the Buddha Sakyamuni.
Visitors can contemplate a 49-meter-long winding glaze dragon which stands near a pond. Here, at the Long Hoa Vien (Dragon Flower Park), tourists can sense the tranquility and the poetry of the nature and talent of human beings.
Da Bao Tower, under construction, is a seven-tiered-27-meter-tall-tower made from thousands of pieces of broken bowls. This is really the ideal place for visitors to learn more about Buddhism as each floor of the tower is for the worship of each of the gods and goddesses.
The second floor of the tower holds the largest bell in Central Vietnam, named Dai Hong Chung. The bell, 4.38 meters in height and 8,500 kilograms in weight, is carved in meticulous detail and includes the four words "Linh Phuoc Tu Chung", statues of Buddha and sceneries of One Pillar Pagoda, Thien Mu Pagoda, Linh Phuoc Pagoda and Bo De Dao Trang Tower (India).
As the bell turns, it presents images of the four seasons. Tourists are advised to turn the bell to the season they are in, write their wishes on a piece of yellow paper, stick the piece of paper onto the bell and then chime the bell three times to send their prayers the Buddha. This is a sacred experience that should not be missed in the flower city.